Views: 159374
Popularity: 50% (1542th place)
Number of paths: 1
Number of GPS tracks: 0
Description of mountain (Slovenian language):
Cerkev sv. Križa se nahaja na manjši vzpetini nad Puštalom (naselje v Škofji Loki) imenovani Hribec. Od cerkve, do katere vodi kratka romarska pot, se nam odpre lep razgled na Škofjo Loko in okoliškemu hribovju.
Webcams in radius of km:
Brnik, Dom na Govejku, Gorenja vas, Katarina nad Ljubljano, Koča na Starem vrhu, Kranj, Kranj (Labore), Ljubljana Brod, Ljubljana Šentvid, Ljubljana Šmartno, Lubnik, Medvode, Medvode, Pasja ravan, Polhov Gradec, Polica (pri Naklem), Rudno, Šmarjetna gora, Šmarna gora, Smlednik, Stari vrh, Stražišče pri Kranju, Sveti Jošt nad Kranjem, Torovo, Vodice , Voklo, Zbiljsko jezero
Share:

facebook

Twitter

myspace
Digg
delicious

reddit
Pictures: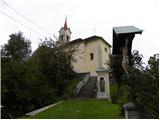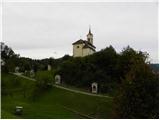 Copyright © 2006-2015
Privacy Policy
, Hribi.net, Mountaineering, Hiking, Trekking, Climbing