| | | | | | | | | |
| --- | --- | --- | --- | --- | --- | --- | --- | --- |
| Škabrijel | | | | | | | | |
Views: 475998
Popularity: 88% (350th place)
Number of paths: 6
Number of GPS tracks: 2
Description of mountain (automatic translation):
Škabrijel is rising north-east of the city of Gorizia. Since the summit posekali vegetation and put a high metal lookout tower, offers an extremely beautiful view on all sides. As we have hands on the river between Sočo Solkanom and Podgoro. In the north is pretty rišejo Julijcih and Carnian Alps. See you in the south to the Black Hills with kraškimi TRSTELJ the Adriatic Sea and to the east as the western edge Trnovske plateau.
Is also interesting from a historical point of view, as the occupants were serious fears during the First World War.
The name is after the church, which stood on it before the First World War, Holy Gabrijela.
Webcams in radius of km:
Biljana, Bilje, Deskle, Gorica, Gorica, Goriški grad / Comune di Gorizia, Kojsko, Korada, Kostanjevica pri Novi Gorici, Lijak, Lokve, Lokve, Morsko, Neblo, Nova Gorica, Nova Gorica (Panovec), Nova Gorica (Trg Edvarda Kardelja), Nova Gorica - rolkarski park, Nova Gorica center, Okroglo, Ozeljan, Panovec, Podgora / Piedimonte del Calvario, Rafut, Ravna pri Ligu, Renče, Rožna Dolina, Selo, Šempeter pri Gorici, Šmartno, Solkan, Solkan (brv čez Sočo), Solkanski most, Sveta Gora, Trnovo pri Gorici, Trstelj, Vrtojba, Vrtojba
Share:

facebook

Twitter

myspace
Digg
delicious

reddit
Panorama:

Pictures: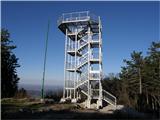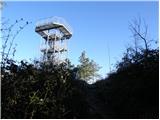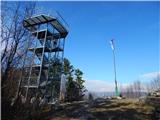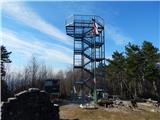 Copyright © 2006-2015
Privacy Policy
, Hribi.net, Mountaineering, Hiking, Trekking, Climbing