| | | | | | | | | |
| --- | --- | --- | --- | --- | --- | --- | --- | --- |
| Monte Paterno | | | | | | | | |
Views: 434147
Popularity: 82% (477th place)
Number of paths: 4
Number of GPS tracks: 0
Description of mountain (automatic translation):
Monte Paterno is 2744 meters high Terrarium. The summit is a magnificent view on all sides, in particular, leaving three Cine / Tre Címe in the west.
Top of the Mass since we visited mountain road that leads up to 2,320 meters high huts Auronzo significantly skarjša ascent.
Monte Paterno is also known after the tragic events that have occurred here during World War. The most famous is the rise of mountain guide Sepp Innerkoflerja. Top of the Monday to try to reach the northern ridge, just below the summit have seen the Italians and began to shoot. Hit by a mountain guide Reno De Luca, who was also a personal friend Innerkoflerjev. Later during the war fell to Reno De Luca. In remembrance of this tragic event the journey through the northern ridge named "De Luca-ferrata Innerkofler".
Webcams in radius of km:
Alta Pusteria, Auronzo (Monte Agudo), Monte Elmo / Helm, Moso / Moos (Stiergarten), Padola (Talstation Padola), Passo Monte Croce / Kreuzbergpass, Rifugio Pendio Monte Elmo, Sexten (Bergstation Hasenköpfl), Sexten (Kabinenbahn Signaue), Sexten (Waldheimlifte), Toblach (Skicenter Rienz), Toblach (Trenkerlift), Tri Cine/Tre Cime di Lavaredo
Share:

facebook

Twitter

myspace
Digg
delicious

reddit
Panorama:

Pictures: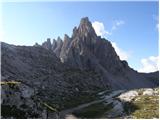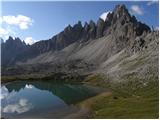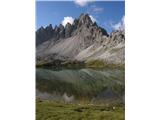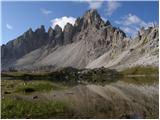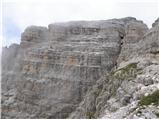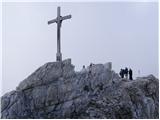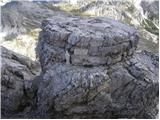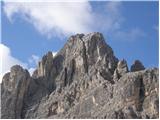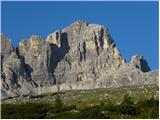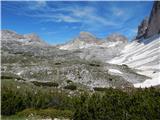 Copyright © 2006-2015
Privacy Policy
, Hribi.net, Mountaineering, Hiking, Trekking, Climbing