| | | | | | | | |
| --- | --- | --- | --- | --- | --- | --- | --- |
| Koča na Vrhu Svetih Treh Kraljev | | | | | | | |
Views: 361968
Popularity: 75% (764th place)
Number of paths: 9
Number of GPS tracks: 0
Description of mountain:
The hut is located a few minutes beneath the 884m high summit of Sveti Trije Kralji. An asphalt road from Logaška, Horjulska and Žirovska also leads to the hut, which is situated in Rovtarsko hribovje. All three roads join a few km before the hut.





There are a few benches and tables in front of the cottage, but no view because of the surrounding forest.





In WW I and WW II they started to build a tunnel, but didn't finish. Durring the excavation, they encountered an underground cave, with more than 70 m deep interlaced tunnels. You can find aragonite and helectite formations.






Webcams in radius of km:
Bevke, Črni vrh nad Idrijo, Gorenja vas, Idrija, Idrija (Mestni trg), Idrija - Godovic, Zala, Javornik, Log pri Brezovici, Logatec, Logatec, Logatec (Blekova vas), Logatec (Gorenja vas), Lom, Medvedje Brdo, Pasja ravan, Planina nad Vrhniko, Planinska koča Mrzlk, Polhov Gradec, Rovte, Šentjošt nad Horjulom, Sinja Gorica, Smrečje, Štampetov most, Trebija, Verd, Vrhnika, Vrhnika, Vrhnika (Mantova), Vrhniški klanec, Zala, Zaplana, Žiri
Share:

facebook

Twitter

myspace
Digg
delicious

reddit
Panorama:

Pictures: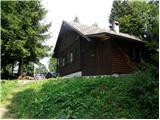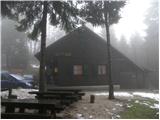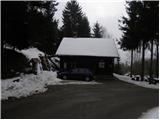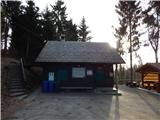 Copyright © 2006-2015
Privacy Policy
, Hribi.net, Mountaineering, Hiking, Trekking, Climbing