Views: 629960
Popularity: 97% (99th place)
Number of paths: 2
Number of GPS tracks: 0
Description of mountain:
Hut on Okrešelj is located above the Logarska valley beneath the walls of Brana and Turska gora. Hut is opened in extended summer season; in vicinity is also winter shelter. From hut is lovely view to the north part of Planjava, Brana and Turska gora.
Surroundings within radius of km:
Bivak pod Mrzlim vrhom (1980m), Bivak pod Skuto (2070m), Brana (2253m), Kamniška koča na Kamniškem sedlu (1864m), Koroška Rinka (Križ) (2433m), Kranjska Rinka (2453m), Mala Rinka (2289m), Mrzla gora (2203m), Orlovo gnezdo (Slap Rinka) (1120m), Štajerska Rinka (2374m), Turska gora (2251m)
Webcams in radius of km:
Črnuški dom na Mali planini, Domžalski dom na Mali planini, Grintovec, Jarški dom na Mali planini, Jezerski vrh, Kamniško sedlo, Kokrsko sedlo, Krvavec, Krvavec (vrtljiva kamera), Logarska dolina, Pavličev Vrh / Paulitschsattel, Planšarsko jezero, Prelaz Črnivec, Raduha, Rzenik in Konj, Sveti Jakob (nad Preddvorom), Sveti Primož nad Kamnikom, Velika planina (Mali stan), Velika planina (pastirsko naselje), Velika planina (Zeleni rob), Velika planina (zgornja postaja nihalke), Veliki Zvoh, Zavetišče v Hudičevem borštu, Železna Kapla / Bad Eisenkappel, Zgornje Jezersko
Share:

facebook

Twitter

myspace
Digg
delicious

reddit
Panorama:

Pictures: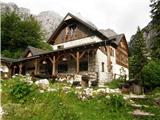 Video:

Copyright © 2006-2015
Privacy Policy
, Hribi.net, Mountaineering, Hiking, Trekking, Climbing