| | |
| --- | --- |
| Trate / Johannsenruhe - Hochstuhl/Stol (climbing way) | |
Starting point: Trate / Johannsenruhe (1152 m)
Destination: Hochstuhl/Stol (2236 m)
Path name: climbing way
Time of walking: 3 h 20 min
Difficulty: very difficult marked way
Difficulty of skiing: no data
Altitude difference: 1084 m
Altitude difference (by path): 1090 m
Map: Karavanke - osrednji del 1:50.000
Hiking equipment (summer): helmet, self belay set
Hiking equipment (winter): helmet, self belay set, ice axe, crampons

Views: 64774
Trip rating: 2 votes
Number of pictures: 49
Number of comments: 116
Access to starting point:
Acces from Slovenia: We drive to boundary pass Ljubelj and then to Austria. We come to a crossroads in village Unterloibl where we orient to left. We follow this road till village Feistritz where we orient to left towards village Barental. Road becomes a macadam after village Barental. We follw this road till a parking lot before a roadblock and park there.
Acces from Austria: We drive to Feistritz which is located west from Ferlach at Klagenfurt on a right bank (south side) of river Drava. In village Feistritz we direct towards village Barental. Road becomes a macadam after village Barental. We follow this road till a big parking lot which is located at a roadblock.
Path description (Slovenian language):
S parkirišča nadaljujemo mimo zapornice po cesti, ki je zaprta za promet. V nadaljevanju postane cesta nekoliko bolj strma, vzpenjamo pa se lahko tako po cesti kot tudi po peš poti, ki kar nekajkrat preči gorsko cesto. V nadaljevanju nas cesta in peš pot kmalu pripeljeta do označenega razpotja. Mi nadaljujemo desno za oznakami "Hochstuhl – Klettersteig", levo pa vodi pot proti Celovški koči.
Pot od razpotja se najprej prične rahlo vzpenjati čez melišča, nato pa zavije v levo in nas pripelje pred vstop v plezalni del poti.
V začetku plezalnega dela poti se nekajkrat navpično vzpnemo s pomočjo številnih skob in jeklenice. Pot nato zavije v levo in ob jeklenici preči strmo skalnato pobočje. Sledi še nekaj vzponov ob jeklenici nato pa pot postane nekoliko manj zahtevna in nas pripelje v ruševje.
Pot skozi ruševje ponovno postopno postaja nekoliko zahtevnejša in sledi nekaj vzponov ob jeklenici ter nato strm vzpon s pomočjo skob. Pot nas nato skozi ruševje pripelje na sprva še neizrazit greben ob katerem se nato kar nekaj časa vzpenjamo. Vzpon po grebenu poteka večinoma skozi ruševje, v zgornjem delu pa postaja greben vse bolj skalnat. Greben je tudi nekoliko izpostavljen in v pomoč nam je tudi nekaj jeklenic.
Ko se greben konča, nadaljujemo rahlo desno nato pa se vzpnemo skozi grapo s pomočjo jeklenice levo navzgor. V zgodnjem poletju je lahko v grapi tudi še snežišče. Iz grape nato nadaljujemo desno in sledi še nekaj strmih vzponov ob jeklenici do vpisne skrinjice ob poti. Od vpisne skrinjice sledi še kratek vzpon s pomočjo jeklenice, nato pa postane pot manj strma.
V nadaljevanju se pot vzpenja proti glavnemu grebenu gore. Ko dosežemo glavni greben nadaljujemo levo ter se pričnemo vzpenjati po slovenski strani grebena proti vrhu, ki ni več daleč.
On the way: Trate / Johannsenruhe (1226m)
Recommended: panorama, similar trips, trips from the same starting point, trips with the same destination
Share:

facebook

Twitter

myspace
Digg
delicious

reddit
Netlog
Pictures: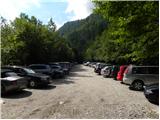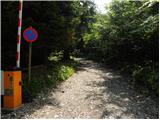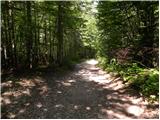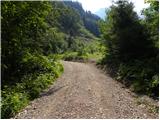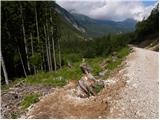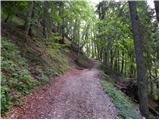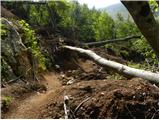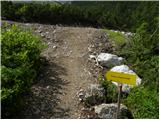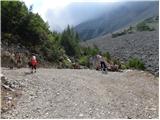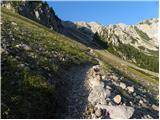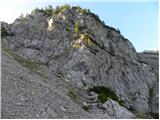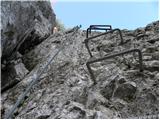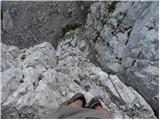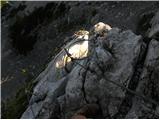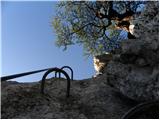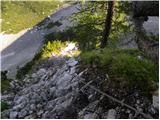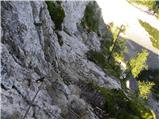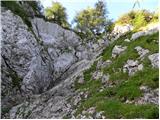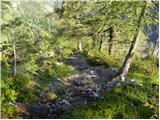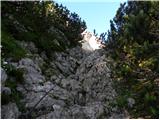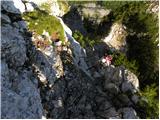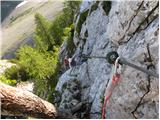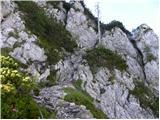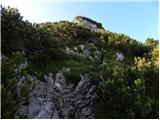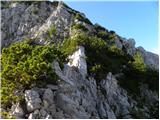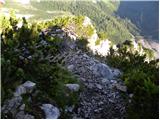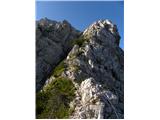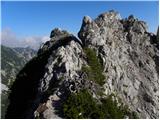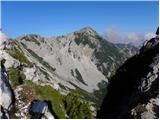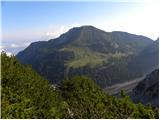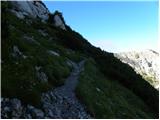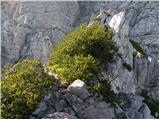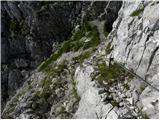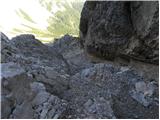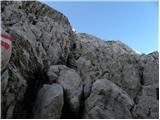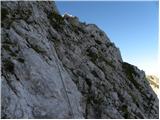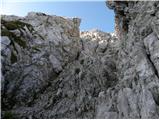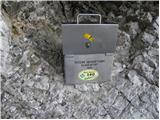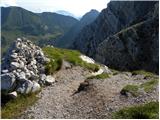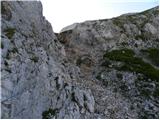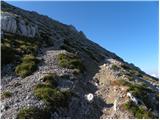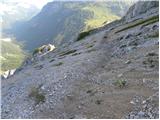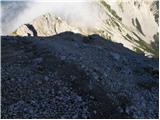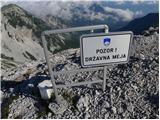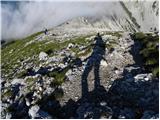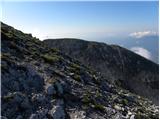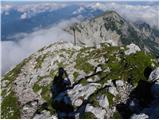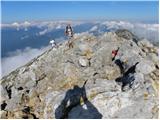 Copyright © 2006-2015
Privacy Policy
, Hribi.net, Mountaineering, Hiking, Trekking, Climbing