Starting point: Slatna (640 m)
Destination: Koča na Dobrči (1478 m)
Path name: -
Time of walking: 2 h 30 min
Difficulty: easy marked way
Difficulty of skiing: no data
Altitude difference: 838 m
Altitude difference (by path): 838 m
Map: Karavanke - osrednji del 1:50.000
Hiking equipment (summer):
Hiking equipment (winter): ice axe, crampons

Views: 5261
Trip rating: 1 votes
Number of pictures: 42
Number of comments: 0
Access to starting point (Slovenian language):
Z avtoceste Ljubljana - Jesenice se usmerimo na izvoz Radovljica (z gorenjske strani izvoz Lesce) in cesti naprej sledimo v smeri Begunj. V Begunjah z vožnjo nadaljujemo desno proti Tržiču, mi pa nekoliko ožji cesti sledimo do vasi Slatna. Ker v omenjeni vasi ni primernih parkirnih mest, parkiramo na primernem prostoru ob cesti pred ali za vasjo.
Path description (Slovenian language):
Ob glavni cesti nadaljujemo do središča vasi, kjer bomo ob cesti opazili rdeč smerokaz »2h 15min«, ki nas usmeri mimo nekaj hiš v gozd. Sprva še dokaj široka pot nas nato pripelje do vodohrana Slatna. V nadaljevanju postane pot nekoliko ožja in nas skozi gozd pripelje do kolovoza, kjer se priključimo poti iz Begunj.
Na kolovozu nadaljujemo desno in se še naprej vzpenjamo skozi gozd. Višje pridemo na gorsko cesto, po kateri nadaljujemo nekaj metrov v levo, nato pa nas markacije usmerijo ponovno desno v gozd. V nadaljevanju dolgo časa hodimo skozi gozd v smeri proti vzhodu. Pri tem dvakrat prečimo gorsko cesto, nato pa se kmalu priključimo poti iz vasi Hudi Graben in Zadnja vas.
Na razpotju nadaljujemo levo po peš poti, ki višje še nekajkrat preči gorsko cesto. Omenjeni poti, ki se občasno kar precej strmo vzpenja, nato sledimo vse do Koče na Dobrči.
Trip can be prolonged to next destinations: Dobrča, Šentanski vrh
Recommended: panorama, similar trips, trips from the same starting point, trips with the same destination
Share:

facebook

Twitter

myspace
Digg
delicious

reddit
Netlog
Pictures: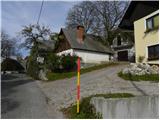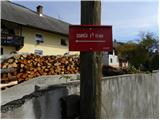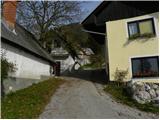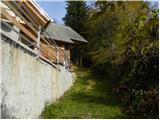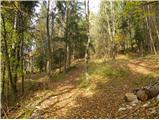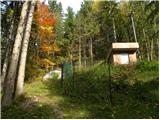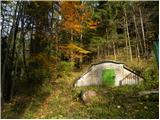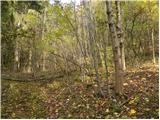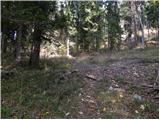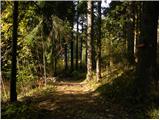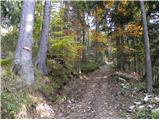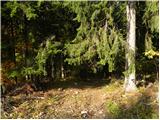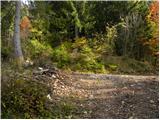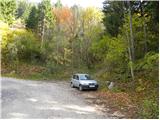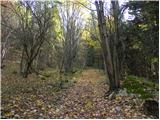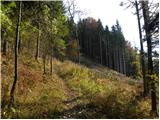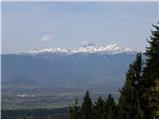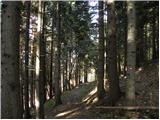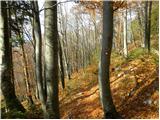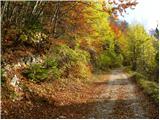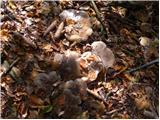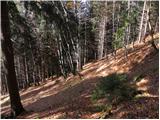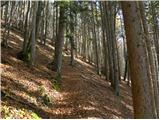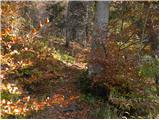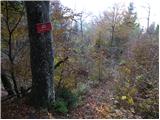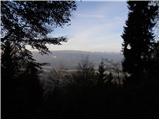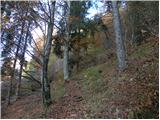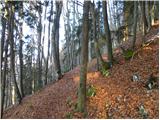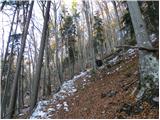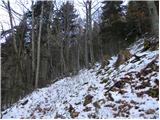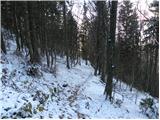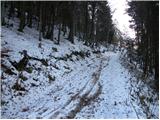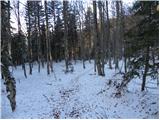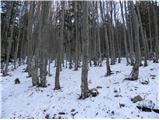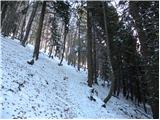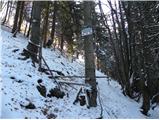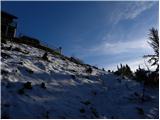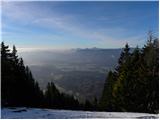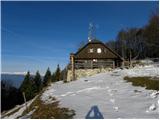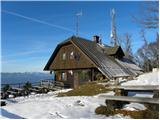 Copyright © 2006-2015
Privacy Policy
, Hribi.net, Mountaineering, Hiking, Trekking, Climbing