Views: 257815
Popularity: 59% (1153th place)
Number of paths: 1
Number of GPS tracks: 0
Description of mountain:
Kisla or Železna voda is a spring, containing iron. It is located near Olševa, just a few meters beneath Solčavska panoramic road, but sadly it dries up in rainless periods. There is a bench beside the spring, but no view because of the forest.
Webcams in radius of km:
Dom na Peci, Grintovec, Jezerski vrh, Kamniško sedlo, Kokrsko sedlo, Logarska dolina, Obir, Pavličev Vrh / Paulitschsattel, Peca, Raduha, Rzenik in Konj, Velika planina (hotel Šimnovec), Velika planina (pastirsko naselje), Velika planina (Zeleni rob), Železna Kapla / Bad Eisenkappel, Zgornje Jezersko
Share:

facebook

Twitter

myspace
Digg
delicious

reddit
Pictures: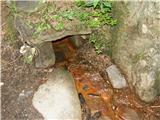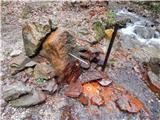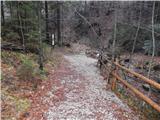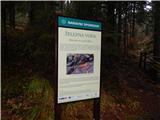 Copyright © 2006-2015
Privacy Policy
, Hribi.net, Mountaineering, Hiking, Trekking, Climbing