| | | | | | | | |
| --- | --- | --- | --- | --- | --- | --- | --- |
| Velika ledena jama in Paradana | | | | | | | |
Views: 267340
Popularity: 59% (1117th place)
Number of paths: 1
Number of GPS tracks: 0
Description of mountain (automatic translation):
The vast ice cave in Paradani, which is known for being out of the izrezovali to 40kg heavy pieces of ice by the in Trieste, Gorica, and even in Egypt, is located northwest of Golakov on the plateau Trnovski forest. The cave is 385m deep and the length of more than 1500m.
Without jamarske equipment, you can look to the eastern part of the cave..
Webcams in radius of km:
Ajdovščina, Dolenje, Idrija, Idrija (Mestni trg), Lijak, Lokve, Lokve, Okroglo, Otlica, Ozeljan, Šebreljski Vrh, Selo, Solkanski most, Sveta Gora, Travnik, Trnovo pri Gorici, Vipavski Križ, Vojsko
Share:

facebook

Twitter

myspace
Digg
delicious

reddit
Pictures: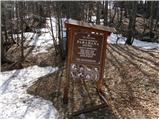 Copyright © 2006-2015
Privacy Policy
, Hribi.net, Mountaineering, Hiking, Trekking, Climbing