Views: 325
Popularity: 8% (2628th place)
Number of paths: 3
Number of GPS tracks: 0
Description of mountain (Slovenian language):
Koča Ütia de Gran Fanes (nemško Grossfanes Hütte) se nahaja na višini 2102 metrov na planini Malga Gran Fanes. S planine na kateri se v poletnih mesecih pase živina je zelo lep razgled na bližnje vrhove. Preko planine sicer teče tudi manjši potok ob katerem se nahaja jezerce. Planina je bila tudi pomembna točka v času prve svetovne vojne.
Webcams in radius of km:
Badia, Ciasa Oies, Col d'Ancona, Colfosco, Cortina d'Ampezzo, Corvara in Badia, Forcelles (Colfosco), La Val (Coz), La Villa (Piz La Ila), La Villa / Stern, Lago di Creta, Passo Gardena, Piz Arlara, Rifugio Bioch, Rifugio Fanes, Rifugio Fodara, Rifugio La Marmotta, Rifugio Lagazuoi, Rifugio Lago Boe, Rifugio Lavarella, Rifugio Lee, Rifugio Nagler, Rifugio Pralongia, Rifugio Ra Valles, Rifugio Santa Croce, Rifugio Sennes, San Cassiano / St. Kassian, Seekofel / Croda del Beco, St. Kassian (Piz Sorega), Tofana di Mezzo, Tofana di Rozes, Ütia Crëp de Munt, Ütia Piz La Ila (Alta Badia)
Share:

facebook

Twitter

myspace
Digg
delicious

reddit
Panorama:

Pictures: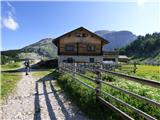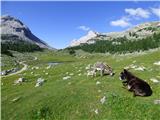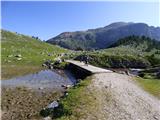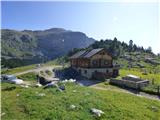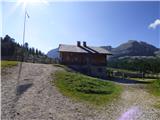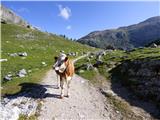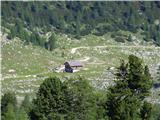 Copyright © 2006-2015
Privacy Policy
, Hribi.net, Mountaineering, Hiking, Trekking, Climbing