Views: 205097
Popularity: 55% (1365th place)
Number of paths: 1
Number of GPS tracks: 0
Description of mountain (automatic translation):
The Turkish cave in Gozdašnici is 18 m long and up to 2 m deep rock caves or. spodmol, or you. "Kevderc" with free entry, which is located at 835 m above sea level, in the south western slope of the hill Gozdašnica Zavrh Karavanško Valley (finals). Some sources mentioning the cave as a "medieval cave city", while it should be its popular name "The Turkish cave". It is a beautiful and well preserved example of a fortified cave shelters, which is likely to result in 13. century, and in 15. and 16. chair. serve to hide and defend against the Turks, during their invasions in Carinthia. From a small gazebo above the cavity, we open view towards the villages: Bridge, Breg and Zasip and Zavrh the valley below us..
Webcams in radius of km:
Begunjščica, Belska planina (Svečica), Bled, Blejsko jezero, Brezje, Dom na Kofcah, Dom na Zelenici, Hrušica, Jesenice, Koča na Dobrči, Lesce, Ljubelj, Moste, Podljubelj, Podtabor, Podvin, Prešernova koča na Stolu, Roblekov dom na Begunjščici, Tržič, Valvasorjev dom pod Stolom, Žabnica / Bodental, Zelenica
Share:

facebook

Twitter

myspace
Digg
delicious

reddit
Pictures: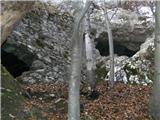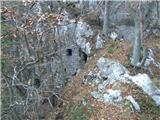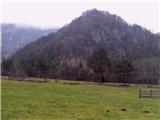 Copyright © 2006-2015
Privacy Policy
, Hribi.net, Mountaineering, Hiking, Trekking, Climbing