Views: 301993
Popularity: 65% (984th place)
Number of paths: 6
Number of GPS tracks: 0
Description of mountain (Slovenian language):
Planinski dom Vrhe se nahaja na jugovzhodnih pobočjih vrha Kisovec, od koder se nam odpre lep pogled na bližnji Javor. V bližini doma, ki je že nekaj let zaprt in v zasebni lasti, pa se nahaja še cerkev sv. Lenarta, ob kateri se na bližnjem travniku nahajajo še klopi in miza.
Webcams in radius of km:
Griže, Kum, Limovce, Marno, Motnik, Mrzlica, Šentrupert, Sveta planina (Partizanski vrh), Trbovlje, Trojane, Vransko, Žalec
Share:

facebook

Twitter

myspace
Digg
delicious

reddit
Panorama:

Pictures: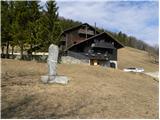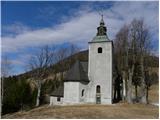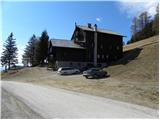 Copyright © 2006-2015
Privacy Policy
, Hribi.net, Mountaineering, Hiking, Trekking, Climbing