| | | | | | | | | | |
| --- | --- | --- | --- | --- | --- | --- | --- | --- | --- |
| Svete Višarje / Monte Lussari | | | | | | | | | |
Views: 617505
Popularity: 98% (65th place)
Number of paths: 4
Number of GPS tracks: 0
Description of mountain:
Svete Višarje is a pilgrim place for many Slavs, Germans and Roman people. As early as the 16. century, the mountain has been named The holly road of the three nations, today The holly path of Europe. The church there is dedicated to Višarska Kraljica (Queen of Višarje) and has been renovated in the year 2000 (Holly mass is at 10, 11 and 12 a.m., Sundays and holidays also at 3 p.m.) Just a few years later a new cable railway followed, allowing the old or weakened to reach Višarje and it also serves the needs of the ski centre in the winter. The many ski slopes offer idyllic skiing and there is a beautiful view of the surroundings from the top, which is therefore and because of the lodging houses crowded with tourists.
However, some prefer to choose the summit of kamniti Lovec, an hour from Višarje that offers a beautiful view of the summits in Julian Alps.

Webcams in radius of km:
Belopeška jezera / Laghi di Fusine, Florjanka/Florianca, Kanin, Mangart, Mangartska planina, Montaž / Jôf di Montasio, Nevejski preval - Na Žlebeh / Sella Nevea, Ovčja vas / Valbruna, Predel, Prevala, Pri Jalnu / Fusine Laghi, Rateče, Rateče (smučišče Macesnovec), Rifugio Gilberti, Rogelj, Rombon, Svete Višarje, Trbiž/Tarvisio, Žabnice / Camporosso in Valcanale, Zahomec / Monte Acomizza / Schönwipfel
Share:

facebook

Twitter

myspace
Digg
delicious

reddit
Panorama:

Pictures: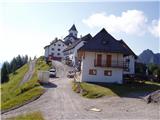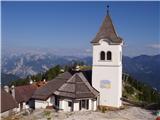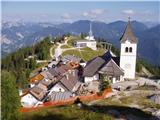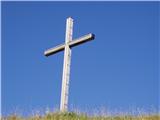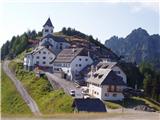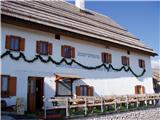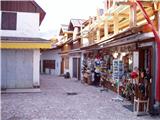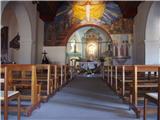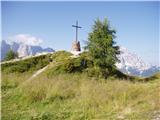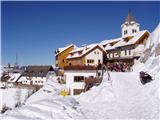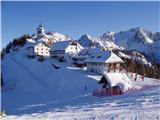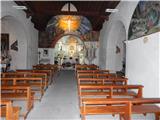 Video:
Copyright © 2006-2015
Privacy Policy
, Hribi.net, Mountaineering, Hiking, Trekking, Climbing