Views: 2540
Popularity: 24% (2152th place)
Number of paths: 2
Number of GPS tracks: 0
Description of mountain (Slovenian language):
Strunjanske soline se nahajajo na obrobju Krajinskega parka Strunjan. Ob solinah se nahaja solinarska hiša, z mostu med solinami in Stjužo pa se nam odpre lep pogled na Stjužo, Strunjanske soline, Strunjanski zaliv, cerkev sv. Jurija v Piranu in bližnjem gričevju. V solinarski hiši se danes nahaja uprava Krajinskega centra Piran.
Center Krajinskega parka Strunjan je za obiskovalce odprt vse dneve v tednu. Med delavniki od 9. do 15. ure. Ob sobotah in nedeljah od 9. do 17. ure. Ob praznikih zaprto. V primeru slabega vremena so možna odstopanja.
Webcams in radius of km:
Buje, Fiesa, Izola, Izola (Belvedere), Koper, Koper (Markovec), Krajinski park Strunjan, Lazaret, Letališče Portorož, Piran, Piran (Mandrač), Portorož, Portorož (Hotel Histrion), Portorož (Villa Bellevue), Savudrija, Savudrija (Alberi), Sečoveljske soline, Sečovlje, Spodnje Škofije, Umag, Valeta
Share:

facebook

Twitter

myspace
Digg
delicious

reddit
Pictures: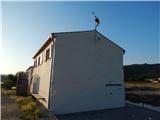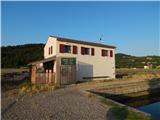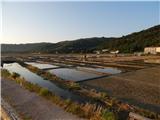 Copyright © 2006-2015
Privacy Policy
, Hribi.net, Mountaineering, Hiking, Trekking, Climbing