Views: 225629
Popularity: 58% (1281th place)
Number of paths: 1
Number of GPS tracks: 0
Description of mountain (Slovenian language):
Bela izvira nad Breginjem v več izvirih in je hudourniškega značaja, največji izvir se nahaja pri križišču za Klatnico (pitna voda) ter sv. Marjeto. Potok Bela teče skozi Breginj, mimo vasi Sedlo in se po približno šestih kilometrih pri Podbeli izliva v Nadižo. Zaradi strme struge in velike intenzitete padavin, ima kljub povprečnemu nizkemu vodostaju hudourniški značaj in s tem povezano izredno erozijsko moč, ki pa je zmanjšana z betonskimi pregradami "špere". Njena erozijska moč se vidi pri Breginju in pod vasjo Sedlo, kjer je izoblikovala globoko rečno strugo.
Webcams in radius of km:
Bovec, Javoršček, Kanin, Kobarid, Letališče Bovec, Matajur, Nevejski preval - Na Žlebeh / Sella Nevea, Polovnik, Prevala, Rezija/Val Resia, Rifugio Gilberti, Robič, Rogelj, Rombon, Stol (Kobariški), Učja, Veliki Babanski skedenj
Share:

facebook

Twitter

myspace
Digg
delicious

reddit
Pictures: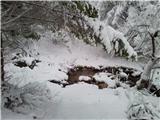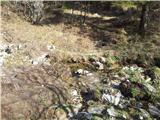 Copyright © 2006-2015
Privacy Policy
, Hribi.net, Mountaineering, Hiking, Trekking, Climbing