Views: 256299
Popularity: 61% (1166th place)
Number of paths: 1
Number of GPS tracks: 0
Description of mountain:
On the place where is the cableway, once stood a bridge. Bridge was ruined in heavy storms. Cableway is really interesting, because we can drive on the other side of the bank by own hands.
Webcams in radius of km:
Bohinjsko jezero (čolnarna), Bohinjsko jezero (na Veglju), Dreka / Drenchia, Javoršček, Kobarid, Koča na planini Kuhinja, Most na Soči, Svinjak, Tolmin, Tolminski Lom, Vogar, Vogel, Volče
Share:

facebook

Twitter

myspace
Digg
delicious

reddit
Pictures: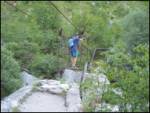 Copyright © 2006-2015
Privacy Policy
, Hribi.net, Mountaineering, Hiking, Trekking, Climbing