Views: 42
Popularity: 2% (2755th place)
Number of paths: 1
Number of GPS tracks: 0
Description of mountain (Slovenian language):
Koča La Marmotta se nahaja vzhodno od prelaza Passo Campolongo ob manjšem sedlu Passo Incisa na višini 1938 metrov. Od lepo urejene koče, ki jo obdajajo prostrani travniki planote Pralongia je zelo lep razgled proti Marmoladi ter gorski skupini Puez. Z bližnjih travnikov pa se odpre razgled tudi proti gorski skupini Sella. Koča je dobro obiskana tudi v zimskem času, saj se nahaja v neposredni bližini smučišča. V poletnih mesecih pa v bližini koče poteka zanimiva downhill proga za gorske kolesarje. Ob koči so tudi številna otroška igrala.
Webcams in radius of km:
Badia, Canazei - Ciampac, Ciampac, Ciasa Oies, Col dei Rossi, Colfosco, Colfosco (Grödner Joch), Corvara in Badia, Dantercepies (Wolkenstein), La Val (Coz), La Villa (Piz La Ila), La Villa / Stern, Lago di Fedaia, Marmolada, Monte Pana (St. Christina), Passo Gardena, Passo Pordoi, Piz Arlara, Piz Sella (Wolkenstein), Rifugio Bioch, Rifugio Fanes, Rifugio Friedrich August, Rifugio La Marmotta, Rifugio Lagazuoi, Rifugio Lago Boe, Rifugio Lavarella, Rifugio Lee, Rifugio Nagler, Rifugio Pralongia, Rifugio Ra Valles, Rifugio Salei, Rifugio Santa Croce, San Cassiano / St. Kassian, Santa Cristina Val Gardena / St. Christina, Sass de Pordoi, Sassolungo, Sassolungo / Langkofel, Seiser Alm (Mezdi Bergstation), St. Kassian (Piz Sorega), Tofana di Mezzo, Tofana di Rozes, Ütia Crëp de Munt, Ütia Piz La Ila (Alta Badia), Val Gardena, Wolkenstein (Ciampinoi)
Share:

facebook

Twitter

myspace
Digg
delicious

reddit
Pictures: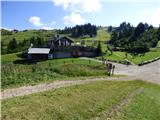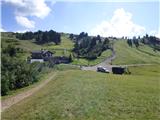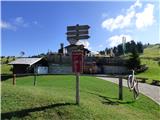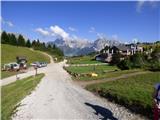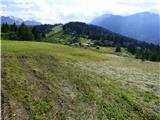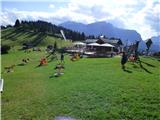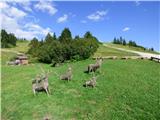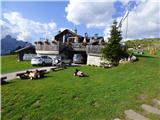 Copyright © 2006-2015
Privacy Policy
, Hribi.net, Mountaineering, Hiking, Trekking, Climbing