| | | | | | | | |
| --- | --- | --- | --- | --- | --- | --- | --- |
| Rekaršica | | | | | | | |
Views: 190605
Popularity: 50% (1418th place)
Number of paths: 2
Number of GPS tracks: 0
Description of mountain (automatic translation):
Sedlo Rekaršica (Kranjska Gora on the map marked Rekaršca) is located between Jerebikovcem (1621 m) and Kamnatim peak (1658 m). On the Austrian side of the coupling is less pastoral house, and taking it nice bench with table.
To view the need to climb slightly after the forest road, from which we then opened a nice view towards Jalovcu, Ponce and Mangartu..
Webcams in radius of km:
Baško jezero / Faakersee, Beljak / Villach, Belopeška jezera / Laghi di Fusine, Dobrač/Dobratsch, Dovje, Dovje (apartmaji Triglav), Jezero Jasna, Kepa, Korensko sedlo, Kranjska Gora, Kranjska Gora (Podkoren (vrtljiva kamera)), Kranjska Gora (Podkoren), Kranjska Gora (Vaški trg), Kranjska Gora (vrtljiva kamera), Mangart, Mihov dom na Vršiču, Mojčin dom na Vitrancu, Mojstrana, Peč - Tromeja, Planica, Poštarski dom na Vršiču, Pri Jalnu / Fusine Laghi, Rateče, Rateče (smučišče Macesnovec), Razor in Prisank, Trbiž/Tarvisio, Trenta
Share:

facebook

Twitter

myspace
Digg
delicious

reddit
Panorama:

Pictures: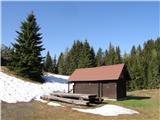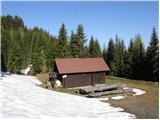 Copyright © 2006-2015
Privacy Policy
, Hribi.net, Mountaineering, Hiking, Trekking, Climbing