Views: 19470
Popularity: 35% (1986th place)
Number of paths: 3
Number of GPS tracks: 0
Description of mountain (Slovenian language):
Prestreljeniško okno, tudi okno v Prestreljeniku, je naravno okno, ki se nahaja nad smučiščem Kanin. Okno je veliko 10 m x 7,5 m, od njega pa se odpre lep pogled tako na slovensko kot italijansko stran.
Legenda o nastanku Prestreljeniškega okna.
Sveta Marija in Hudič sta se odpravljala proti Sveti gori. Hudič je ubral pot, ki se mu je zdela krajša. Stavila sta, kdo bo prvi na cilju. Hudič je na Kaninu naletel na previsoko steno Prestreljenika. Silovito je treščil vanjo in v steni naredil ogromno luknjo nato pa nadaljeval pot čez Stol, Mijo in Matajur. Ko je prispel na cilj, je bila Marija že zdavnaj tam.
Webcams in radius of km:
Bovec, Florjanka/Florianca, Javoršček, Kanin, Letališče Bovec, Log pod Mangartom, Log pod Mangartom (smučišče Encijan), Mangartska planina, Montaž / Jôf di Montasio, Nevejski preval - Na Žlebeh / Sella Nevea, Polovnik, Predel, Prevala, Rezija/Val Resia, Rifugio Gilberti, Rogelj, Rombon, Stol (Kobariški), Svete Višarje, Svinjak, Učja, Veliki Babanski skedenj
Share:

facebook

Twitter

myspace
Digg
delicious

reddit
Panorama:

Pictures: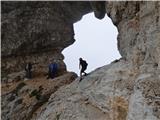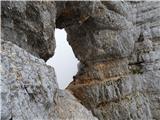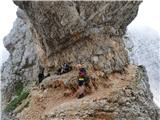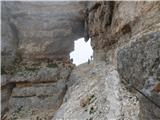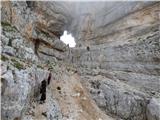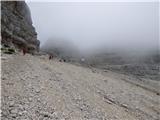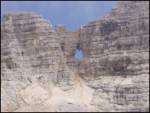 Copyright © 2006-2015
Privacy Policy
, Hribi.net, Mountaineering, Hiking, Trekking, Climbing