Views: 244020
Popularity: 60% (1209th place)
Number of paths: 1
Number of GPS tracks: 0
Description of mountain (automatic translation):
Poglejska church is the cave - rock spodmol with a smaller cavity in the outskirts of the village Poljica in the hill above, where archaeologists have found human stone tools from an earlier era, as evidenced by the existence of pračloveka in the Triglav pogorju from agricultural crops. At the excavation they found a bronze coin and the bronze ring in the later time of settlement of old Slovanov. Here the visitor opens a beautiful view of the hill, on Gorenjsko ravan, as Bled, Pokljuko, Debelo oven Rjavino and Triglav..
Webcams in radius of km:
Begunjščica, Belska planina (Svečica), Bled, Blejsko jezero, Bohinjska Bistrica, Brezje, Dom na Zelenici, Dovje, Dovje (apartmaji Triglav), Hrušica, Jesenice, Koča na Dobrči, Koča na Uskovnici, Lesce, Mojstrana, Moste, Podvin, Pokljuka, Prešernova koča na Stolu, Roblekov dom na Begunjščici, Valvasorjev dom pod Stolom, Viševnik, Zelenica, Zgornji Goreljek (Pokljuka)
Share:

facebook

Twitter

myspace
Digg
delicious

reddit
Pictures: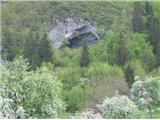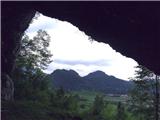 Copyright © 2006-2015
Privacy Policy
, Hribi.net, Mountaineering, Hiking, Trekking, Climbing