| | | | | | | | |
| --- | --- | --- | --- | --- | --- | --- | --- |
| Malga Cuarnan | | | | | | | |
Views: 492
Popularity: 12% (2653th place)
Number of paths: 1
Number of GPS tracks: 0
Description of mountain:
Malga Cuarnan or. a Cuarnan hut is situated at 1070 meters of altitude above the city of Gemona del Friuli or Humin (in Slovene) and just a few minutes of walking distance below the Foredor saddle. The hut is open in summer only and it is renown for its agritourism treats. The hut can be reached by a long and narrow mountain paved road with extremely sharp hairpin bends. A parking place by the hut is small and private, therefore it is advisable to park at the first big gravel road turn in the vicinity of the hut at about 10 to 15 minutes of walking distance away. The hut can also be reached on foot by a trail with markings CAI 713.



The hut is a favourite destination for various mountain bikers, while the hikers continue higher to Mali Karman / Cuarnan (1372 m) south of the Foredor saddle and Veliki Karman / Cjampon (1731 m) north of the Foredor saddle.



Address: Strada di Foredor snc, 33013 Gemona del Friuli UD, Italija.
Share:

facebook

Twitter

myspace
Digg
delicious

reddit
Pictures: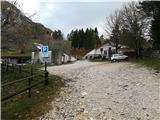 Copyright © 2006-2015
Privacy Policy
, Hribi.net, Mountaineering, Hiking, Trekking, Climbing