Views: 214504
Popularity: 56% (1326th place)
Number of paths: 1
Number of GPS tracks: 0
Description of mountain (automatic translation):
Mala Boka is a karst cave, which is located at the foot of the massif Kaninska. Access to the cave, which has a web intrench debt of more than 8000 m, is possible only with appropriate equipment and jamarsko guide.
Mala Boka, the cave system, together with "BC4", as the depth of 1319 m..
Webcams in radius of km:
Bovec, Javoršček, Kanin, Kobarid, Letališče Bovec, Log pod Mangartom, Log pod Mangartom (smučišče Encijan), Matajur, Montaž / Jôf di Montasio, Nevejski preval - Na Žlebeh / Sella Nevea, Polovnik, Predel, Prevala, Rezija/Val Resia, Rifugio Gilberti, Robič, Rogelj, Rombon, Stol (Kobariški), Svinjak, Učja, Veliki Babanski skedenj
Share:

facebook

Twitter

myspace
Digg
delicious

reddit
Pictures: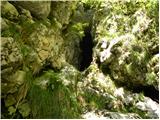 Copyright © 2006-2015
Privacy Policy
, Hribi.net, Mountaineering, Hiking, Trekking, Climbing