Views: 1462
Popularity: 20% (2187th place)
Number of paths: 1
Number of GPS tracks: 0
Description of mountain (Slovenian language):
Koča Langalm Hütte se nahaja na istoimenski planini pod severnimi ostenji Treh Cin. Od koče, ob kateri se nahaja tudi nekaj manjših jezer je čudovit razgled na okoliške vrhove, še posebej na že omenjene Tri Cine. Koča je zelo dobro obiskana zaradi bližine visokogorske ceste, ki pelje do koče Auronzo. Mnogi pohodniki in turisti namreč prehodijo krožno pot okoli Treh Cin. Ob tej poti pa se nahaja tudi koča Langalm Hütte.
Webcams in radius of km:
Alta Pusteria, Auronzo (Monte Agudo), Monte Elmo / Helm, Moso / Moos (Stiergarten), Padola (Talstation Padola), Passo Monte Croce / Kreuzbergpass, Rifugio Pendio Monte Elmo, Sexten (Bergstation Hasenköpfl), Sexten (Kabinenbahn Signaue), Sexten (Waldheimlifte), Toblach (Skicenter Rienz), Toblach (Trenkerlift), Tri Cine/Tre Cime di Lavaredo
Share:

facebook

Twitter

myspace
Digg
delicious

reddit
Panorama:

Pictures: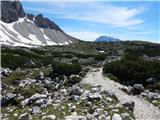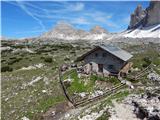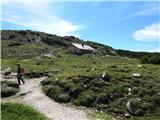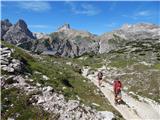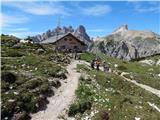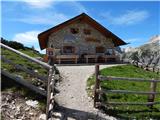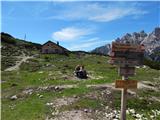 Copyright © 2006-2015
Privacy Policy
, Hribi.net, Mountaineering, Hiking, Trekking, Climbing