Views: 235303
Popularity: 59% (1247th place)
Number of paths: 1
Number of GPS tracks: 0
Description of mountain (automatic translation):
The parking lot is across the street to the left in the direction of Pogačnikovega home in slices, please podih (right-hand road leads to Prehodavcem and Doliču). After 15 minutes of walking the road leads us to the lower station of the freight lift, where only the ends.
The rise continued after the marked hiking path (mulatjeri), which is a moderate climb through the forest. The path, which climbs above the valley, White Brook, however, quickly lead us to the very steep slopes (the risk of rocks falling), which leads across a wide pedestrian path. The way to crosses GRAPO Great cut, for which we get a brief exposure to the policy, through which we get through jeklenice. Next, the path returns to the woods, where the number of moderate climbs okljukih. A small path leads us to a minor under the overhang, where we can see a number of sticks, which hikers set to not scale waves in the valley (they stick out more for fun than real). The way to crosses some small grape, and then we pass the chapel leads to higher grape. With some caution (nezahtevno) that cut across GRAPO which in a few minutes further to walk up to a pleasant resting place (the two benches on the way). Next cut across one more GRAPO (in early summer snežišča option), then returned to the path in the woods. The higher the forest is becoming scarce, the path is steep, but somewhat more and more views.
At the height of approximately 1500 m, at the point where the marked path turns to the right, we observed a slightly larger scale unlabelled stezico, which turns to the left of us and after a minute walk leads to a hunting cabin..
Surroundings within radius of km:
Belopotoški slap (720m), Bovški Gamsovec (2392m), Goličica (2101m), Kriški rob (2366m), Luknja (1758m), Pihavec (2419m), Planja (2453m), Pogačnikov dom na Kriških podih (2050m), Razor (2601m), Šplevta (Indijanec) (2382m), Spodnje Kriško jezero (1880m), Zgornje Kriško jezero (2158m)
Webcams in radius of km:
Belopeška jezera / Laghi di Fusine, Bohinjsko jezero (čolnarna), Bohinjsko jezero (na Veglju), Dovje, Dovje (apartmaji Triglav), Jezero Jasna, Koča na Gozdu, Koča na Uskovnici, Korensko sedlo, Kranjska Gora, Kranjska Gora (Podkoren (vrtljiva kamera)), Kranjska Gora (Podkoren), Kranjska Gora (Vaški trg), Kranjska Gora (vrtljiva kamera), Kredarica, Mangart, Mangartska planina, Mihov dom na Vršiču, Mojčin dom na Vitrancu, Mojstrana, Planica, Pokljuka, Poštarski dom na Vršiču, Pri Jalnu / Fusine Laghi, Rateče, Rateče (smučišče Macesnovec), Razor in Prisank, Svinjak, Trenta, Triglavski ledenik, Viševnik, Vogar, Vogel, Zgornji Goreljek (Pokljuka)
Share:

facebook

Twitter

myspace
Digg
delicious

reddit
Pictures: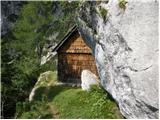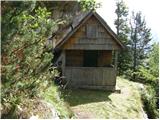 Copyright © 2006-2015
Privacy Policy
, Hribi.net, Mountaineering, Hiking, Trekking, Climbing