Views: 219852
Popularity: 57% (1304th place)
Number of paths: 1
Number of GPS tracks: 0
Description of mountain (automatic translation):
Hunting lodge is located on the Bala small clearing in the valley of the same name. Due to the nearby forest, the outlook is rather limited and extends only to the slopes above the valley and Bale Bavšica. Near the cottage sink with potable water..
Webcams in radius of km:
Belopeška jezera / Laghi di Fusine, Bovec, Erjavčeva koča na Vršiču, Florjanka/Florianca, Javoršček, Jezero Jasna, Kanin, Koča na Gozdu, Kranjska Gora, Kranjska Gora (Podkoren (vrtljiva kamera)), Kranjska Gora (Podkoren), Kranjska Gora (Vaški trg), Kranjska Gora (vrtljiva kamera), Letališče Bovec, Log pod Mangartom, Log pod Mangartom (smučišče Encijan), Mangart, Mangartska planina, Mihov dom na Vršiču, Mojčin dom na Vitrancu, Nevejski preval - Na Žlebeh / Sella Nevea, Planica, Polovnik, Poštarski dom na Vršiču, Predel, Prevala, Pri Jalnu / Fusine Laghi, Rateče, Rateče (smučišče Macesnovec), Razor in Prisank, Rifugio Gilberti, Rogelj, Rombon, Svete Višarje, Svinjak, Trbiž/Tarvisio, Trenta, Triglavski ledenik
Share:

facebook

Twitter

myspace
Digg
delicious

reddit
Panorama:

Pictures: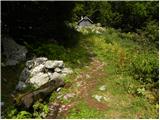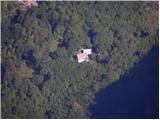 Copyright © 2006-2015
Privacy Policy
, Hribi.net, Mountaineering, Hiking, Trekking, Climbing