Views: 1251
Popularity: 19% (2288th place)
Number of paths: 1
Number of GPS tracks: 0
Description of mountain (Slovenian language):
Hribce so manjša vzpetina jugozahodno od Moravč ter severovzhodno od grada Tuštanj. Na vrhu stoji cerkev Žalostne Matere Božje, nekaj 10 metrov južno od vrha pa se nahaja manjši ribnik. Od cerkve oz. bližnjega travnika, pa se nam ob lepem vremenu odpre razgled na najvišje vrhove Kamniško Savinjskih Alp.
Surroundings within radius of
km:
Webcams in radius of km:
Blagovica, Domžale, Janče, Kompolje, Kresnice, Krtina, Limbarska gora, Ljubljana Zadobrova, Moravče, Planinski dom Ušte - Žerenk, Prelaz Črnivec, Radomlje, Šentjakob, Trojane, Vir pri Domžalah, Žagarski vrh, Želodnik
Share:

facebook

Twitter

myspace
Digg
delicious

reddit
Pictures: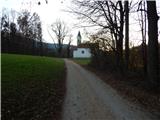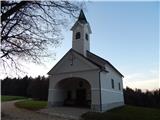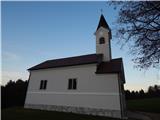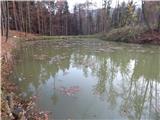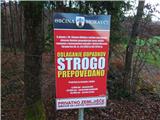 Copyright © 2006-2015
Privacy Policy
, Hribi.net, Mountaineering, Hiking, Trekking, Climbing