Views: 2628
Popularity: 26% (2234th place)
Number of paths: 2
Number of GPS tracks: 0
Description of mountain (Slovenian language):
Gogalova lipa je okrog 400 let stara lipa oz. lipovec, ki raste v dolini Radovne, točneje pri domačiji Gogal v Zgornji Radovni. Lipovec ima na prsni višini premer 630 cm, visok pa je približno 24 m.
Webcams in radius of km:
Belska planina (Svečica), Bled, Blejsko jezero, Dovje, Dovje (apartmaji Triglav), Hrušica, Jesenice, Jezero Jasna, Kepa, Koča na Gozdu, Koča na Uskovnici, Kranjska Gora (Vaški trg), Kranjska Gora (vrtljiva kamera), Kredarica, Mihov dom na Vršiču, Mojstrana, Moste, Pokljuka, Razor in Prisank, Triglavski ledenik, Valvasorjev dom pod Stolom, Viševnik, Zgornji Goreljek (Pokljuka)
Share:

facebook

Twitter

myspace
Digg
delicious

reddit
Pictures: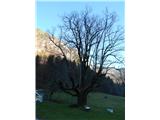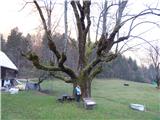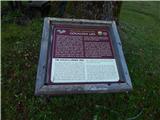 Copyright © 2006-2015
Privacy Policy
, Hribi.net, Mountaineering, Hiking, Trekking, Climbing