Views: 367395
Popularity: 74% (737th place)
Number of paths: 2
Number of GPS tracks: 0
Description of mountain (automatic translation):
Dragove home is situated on the lookout rising south of Šempeter. The summit, which is also the church councils Magdalene, the lovely view of the Kamniško Savinian Alps, through the eastern Karavanke to Pohorje. Nice to see the World Celjske part of the valley and the basin, which rises above the eastern mountains Posavina.
Webcams in radius of km:
Celje (Krekov trg), Celje (letno kopališče), Celjska koča, Griže, Lahomšek, Marno, Medlog, Mrzlica, Petrovče, Šentrupert, Sveta planina (Partizanski vrh), Trbovlje, Vransko, Žalec
Share:

facebook

Twitter

myspace
Digg
delicious

reddit
Panorama:

Pictures: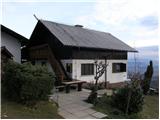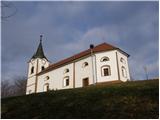 Copyright © 2006-2015
Privacy Policy
, Hribi.net, Mountaineering, Hiking, Trekking, Climbing