Views: 6230
Popularity: 33% (2083th place)
Number of paths: 1
Number of GPS tracks: 0
Description of mountain (Slovenian language):
Bičkova skala je bil bojni položaj v dražgoški bitki januarja 1942. Na Bičkovi skali danes stoji večja kovinska zvezda, bližje ob cesti pa obeležje NOB. Z Bičkove skale se odpre lep razgled proti Dražgošam in hribovju nad Selško dolino.
Webcams in radius of km:
Bled, Blegoš, Blejsko jezero, Brezje, Dražgoše, Koča na Dobrči, Koča na Starem vrhu, Kranj, Kranj (Labore), Lesce, Lubnik, Planica (vzletišče Gozd), Podtabor, Podvin, Polica (pri Naklem), Ratitovec, Rudno, Šmarjetna gora, Smučišče Cerkno, Soriška planina, Stari vrh, Stražišče pri Kranju, Sveti Jošt nad Kranjem, Zgornja Sorica, Zgornje Duplje
Share:

facebook

Twitter

myspace
Digg
delicious

reddit
Panorama:

Pictures: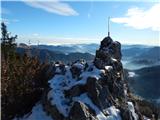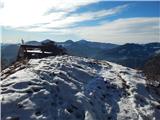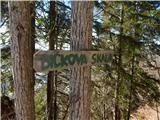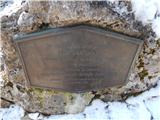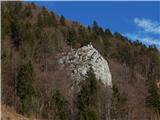 Copyright © 2006-2015
Privacy Policy
, Hribi.net, Mountaineering, Hiking, Trekking, Climbing