Starting point: Zavrzeln (700 m)
Destination: Rombon (2208 m)
Path name: -
Time of walking: 5 h
Difficulty: partly demanding marked way
Difficulty of skiing: demanding
Altitude difference: 1508 m
Altitude difference (by path): 1508 m
Map: Julijske Alpe - zahodni del 1:50.000
Hiking equipment (summer): helmet
Hiking equipment (winter): crampons, ice axe, helmet

Views: 43995
Trip rating: 8 votes
Number of pictures: 17
Number of comments: 29
Access to starting point:
We drive from Bovec towards Kaninska vas. Then we follow the road going to Kanin. A road towards village Plužna soon branches to left. We continue on the right road which soon brings us to a crossroads. We orient to right in direction of Rombon. We follow this road till a point where it crosses a swift. Signposts and a brooker are here. We park here.
Path description:
We start our trip by the spring and are careful not to take the road, but the footpath. The path ascends at the beginning and leads us through a thin forest and disappears into it after 15 min, still slightly rising. After an hour and a half we come out of the forest, ascend for a brief time and see a hunting lodge on pasture Gorčica on our left side. Here, we can see the mountains on the south side of Bovška basin. The road turns a little to the right and leads us to a crossing. We take a right (lower road) and follow the marks to Rombon. We are now walking almost parallel from the spot where an old military hospital used to stand (10 m away and the memorial plate is by the road). Our path now turns to the left and goes into the forest one last time. After just a few minutes we leave the forest and see a cross on the other side. The path starts to ascend here and we can see the remains of the war on every step of the way. Now, the path levels and we can see Rombon. We come to a crossroads. The path to the right leads to the top of Čukla (3 min) and we take it (a pyramid is on top). We then descend back to the path that leads to Rombon, which starts to ascend gently and gets us to the screes beneath Rombon. The screes are pretty steep, so we must be careful not to cause a rock fall. After the screes the path turns right into an abrupt ravine. Caution is advised again! As we come out of the ravine some minor climbing awaits (5 m, but cautious!). An ascent over a steep grassy slope follows to the top of Rombon. After 45 min we reach the top.
On the way: Planina Goričica (1336m), Čukla (1767m)
Recommended: panorama, similar trips, trips from the same starting point, trips with the same destination
Share:

facebook

Twitter

myspace
Digg
delicious

reddit
Netlog
Pictures: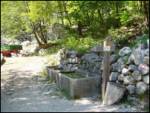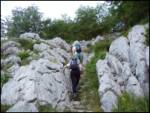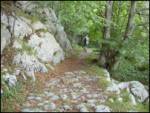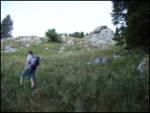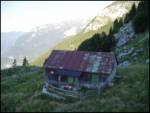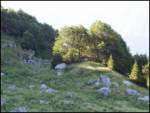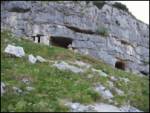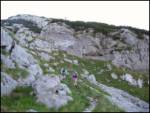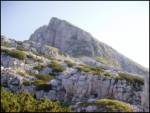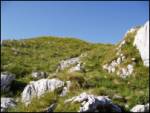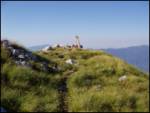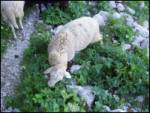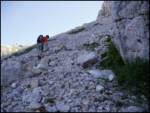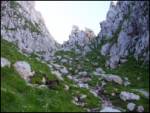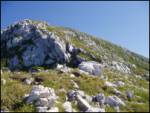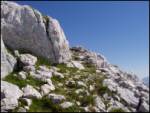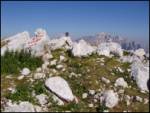 Copyright © 2006-2015
Privacy Policy
, Hribi.net, Mountaineering, Hiking, Trekking, Climbing