| | |
| --- | --- |
| V Koncu - Skuta (via Žmavčarje) | |
Starting point: V Koncu (900 m)
Destination: Skuta (2532 m)
Path name: via Žmavčarje
Time of walking: 4 h 45 min
Difficulty: very difficult unmarked way
Difficulty of skiing: very demanding
Altitude difference: 1632 m
Altitude difference (by path): 1632 m
Map: Kamniške in Savinjske Alpe 1:50.000
Hiking equipment (summer): helmet, self belay set
Hiking equipment (winter): helmet, self belay set, ice axe, crampons

Views: 71162
Trip rating: 8 votes
Number of pictures: 40
Number of comments: 67
Access to starting point:
We drive from Kamnik into valley Kamniška Bistrica. We drive past a house and continue driving on a forest road towards Kokrsko sedlo (saddle). We go to left in both crossroads and drive past Žagana peč till a parking lot at cargo cable railway going on Kokrsko sedlo.
Path description:
We start at telpher line to Kokrsko sedlo. We walk on the road in the direction of the line. We get to another parking lot soon, and here we go slightly to the right. The road turns into cart track and we get to the crossroad. We go right (left=over Gamsov skret to Skuta). Now we are on a path, which becomes steep. We get to the first wire and awkward crossing over an avalanchy slope (slippery when wet). The path stays steep and the steel wires are there too. We get out of the forest soon. There is a lot of rocks on the way so be careful not to engage them. We continue through unexpressive scree, and if we keep quiet we can maybe see rock goats. The path goes left out of the grass, and we only have half an hour left to bivouac. Orientation is hard when foggy. Bivouac stands behind a little hill on Mali podi. From bivouac on we head north through fairly beaten path. Beware of abysses if foggy. We get on a marked path Kamniško sedlo-Kokrsko sedlo. We should get to crossroad, if not we went too left or too right. Well crossroad shouldn't be far if so. We find it and go towards Skuta(it's marked). The path goes up over a rocky part under Rinke at first. The steepness rises slowly, and the path gets us to a scree which we have to get through. When we get on the top we enter the wall of Skuta. Safety equipment is available. The path leads us on a little crest where wires help us but then we enter the wall again. Pins are for help again, which bring us on the top part of Skuta. Steepness drops and we soon get to the top.
On the way:
Bivak pod Skuto (2070m)
Recommended: panorama, similar trips, trips with the same destination
Share:

facebook

Twitter

myspace
Digg
delicious

reddit
Netlog
Pictures: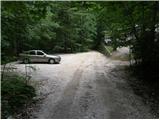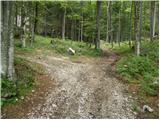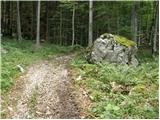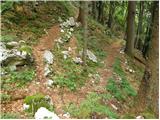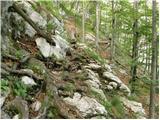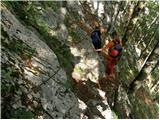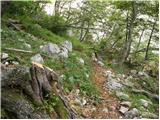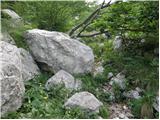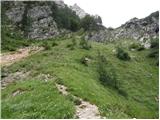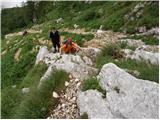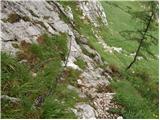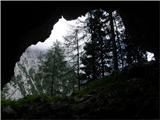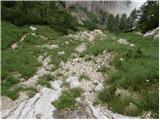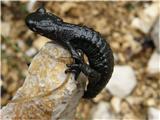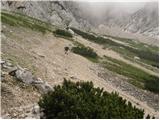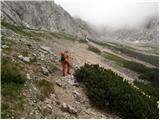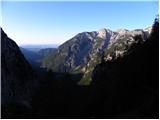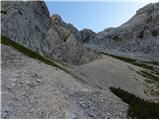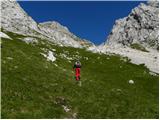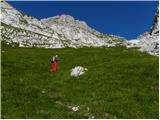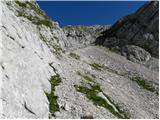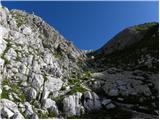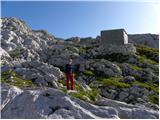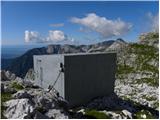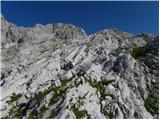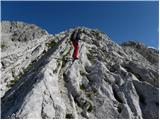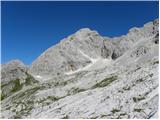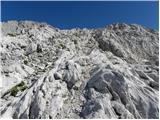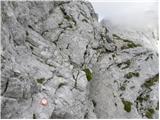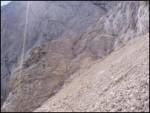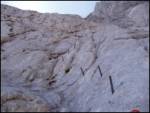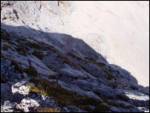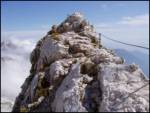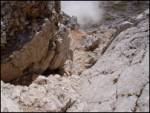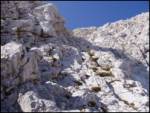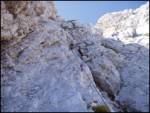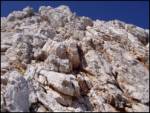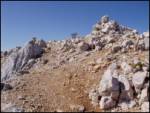 Video:
Copyright © 2006-2015
Privacy Policy
, Hribi.net, Mountaineering, Hiking, Trekking, Climbing