| | |
| --- | --- |
| Sveti Jurij - Rudijev dom na Donački gori | |
Starting point: Sveti Jurij (320 m)
Destination: Rudijev dom na Donački gori (590 m)
Path name: -
Time of walking: 0 h 50 min
Difficulty: easy marked way
Difficulty of skiing: partly demanding
Altitude difference: 270 m
Altitude difference (by path): 270 m
Map: Rogaška Slatina z Bocem in Donacko goro 1:25.000
Hiking equipment (summer):
Hiking equipment (winter):

Views: 6044
Trip rating: 1 votes
Number of pictures: 14
Number of comments: 3
Access to starting point (automatic translation):
The motorway Ljubljana - Maribor is focusing on exports Dramlje and the road to follow in the direction of Šentjurja, Rogaska Slatina and Radeč. In Radeče us tags for Donačko Montenegro target left. Few come forward to the next crossing, where we continue to the right again in the direction of the mountains Donačka. Continue to drive towards the village of Saint George (forward does not follow the codes for Donačko Montenegro). In the village of Saint George, however, turn left up to the church of St. George at the parkiramo. Parkiramo may be a little lower in the parking lot along the road.
Path description (automatic translation):
From the church of St. George continue on the road up. After 100m walk but come on the intersection (unmarked), where we continue the left. After a further few dozen steps walk, and get to the farm, where marked walking path turns right up. The route originally vzpne over the lawn, then turns right, which crosses shrubs and not for us to the cross leads to the following farmers. Here, we continue up the marked kolovozu to us through the panoramic hillside will soon lead to a crossroads path. Continue straight towards the house and Holy Rudijevega Donata. After a few minutes walk further steep discounts and the path turns left. Followed by short slopes Crossing west to the church of Saint Donat. From the church continue in the direction of Rudijevega home by a route that goes in the woods. The path crosses initially Donačka western slopes of the mountains, and then for a short period vzpne after a sharp and wet danger of slipping slope. Next we lead the way to the farm for which to get on the road, where we continue to the right. The road on which we continue upswing us a good 5 minutes leads to Rudijevega home.
On the way:
Sveti Donat (511m)
Recommended: panorama, similar trips, trips from the same starting point,
Share:

facebook

Twitter

myspace
Digg
delicious

reddit
Netlog
Pictures: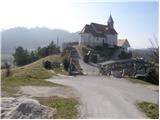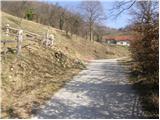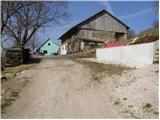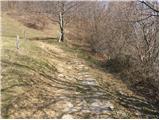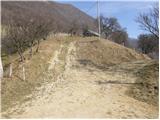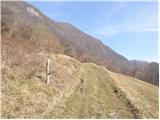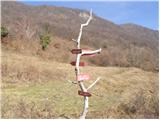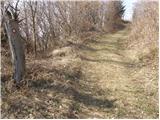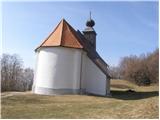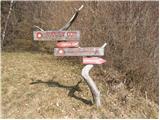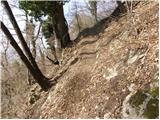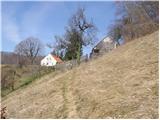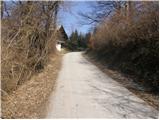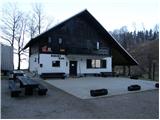 Copyright © 2006-2015
Privacy Policy
, Hribi.net, Mountaineering, Hiking, Trekking, Climbing