| | |
| --- | --- |
| Rudno polje - Vodnikov dom | |
Starting point: Rudno polje (1347 m)
Destination: Vodnikov dom (1817 m)
Path name: -
Time of walking: 3 h 20 min
Difficulty: easy marked way
Difficulty of skiing: demanding
Altitude difference: 470 m
Altitude difference (by path): 700 m
Map: Triglav 1:25.000
Hiking equipment (summer): helmet
Hiking equipment (winter): helmet, ice axe, crampons

Views: 44734
Trip rating: 3 votes
Number of pictures: 49
Number of comments: 5
Access to starting point:
We drive from Bled or Jesenice to village Gorje and then we continue driving to Pokljuka. When road brings us to shooting range on Rudno polje we park on a parking lot near the shooting range.
Path description (automatic translation):
At the end of the parking lot to the right, shed gravel road on which the signpost for Triglav. Focusing on that road, which climbs gently and us after ten minutes leads to the ski slopes. Next we continue on the road to the left, which soon shed marked path towards Triglavu. After several minutes of moderate upswing us the path leading to the forest road, which tracked only a few meters (until I can get the car the way we shortened by 20 minutes). Marked path is then directed to the right, and for a short period strmeje vzpne. After ten minutes of steep discounts, the way it slowly moves on the steep slopes. After that steep slopes, the path through most of slightly lowered and are increasingly turning right. Slightly to the left we see the mountain below us Konjščico. Our path is then stop and go pass from the forest during rušje. The path that climbs again then leads us on steep rocky cliffs, and soon after we bring the crossroads where the routes connect with the mountain Konjščice. Followed by a shorter route and the rise of us in a nice pond called dolinico. The path turns left and the table for us than PCE leads to pleasant Studencki under Studorskim prevalom. The way forward begins a moderate climb at studenčku and above the turns right. At the beautiful views all the way lead us to Studorski PREVAL, where we open a lovely view of the avalanche site. The way forward is initially a little drop, then crosses the slopes of the Grand Summit Draškega and Tosca, with some slight incline and drop. After a while our path leads to the grassy slopes of the southern Tosca. Here is the right way to shed Tosca, only a few meters away but we join path left by Uskovnica. The way forward is still crosses slopes Tosca. The path then crosses the gentle downhill shorter not rare woods and then lead us to steep slopes. But still a little way of artificially made wide shelf in the gentle downhill slope crosses prepadna Tosca. Whereas it is rather broad pot is not a problem. The route then again slightly vzpne and leads to a crossroads where we continue in the right direction Vodnikova home. Followed for about ten minutes walk without major climbs and downhill to Vodnikova home.
On the way:
Studorski preval (1892m)
Trip can be prolonged to next destinations: Cesar (50 min), Koča na Doliču, Vernar, Dom Valentina Staniča, Vrh Snežne konte, Šmarjetna glava, Dom Planika, Visoka Vrbanova špica, Begunjski vrh, Triglavski dom na Kredarici, Rjavina, Triglav
Recommended: panorama, similar trips, trips from the same starting point, trips with the same destination
Share:

facebook

Twitter

myspace
Digg
delicious

reddit
Netlog
Pictures: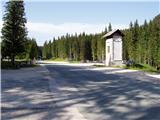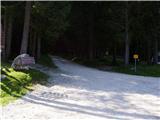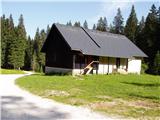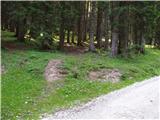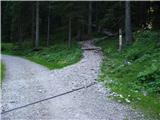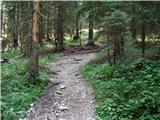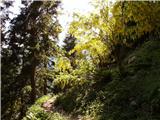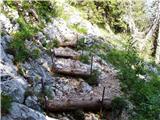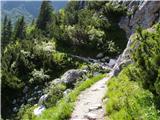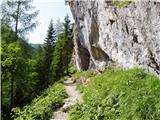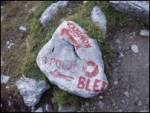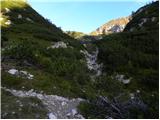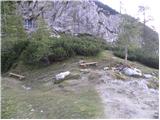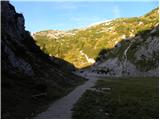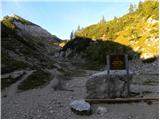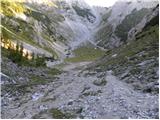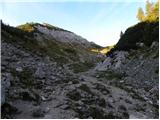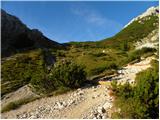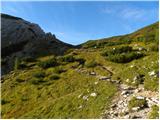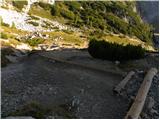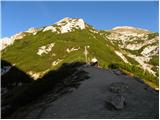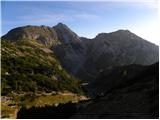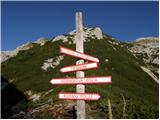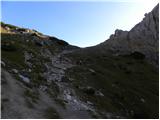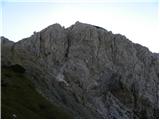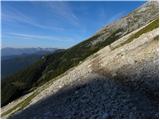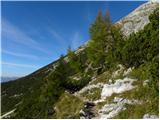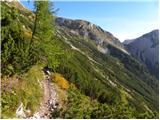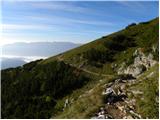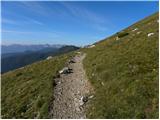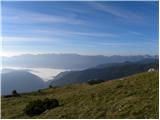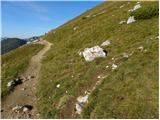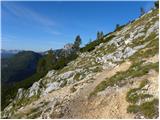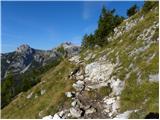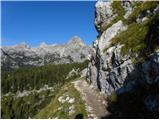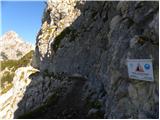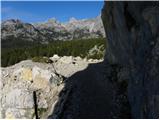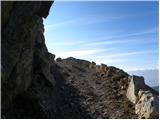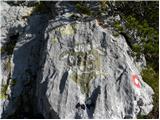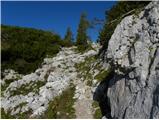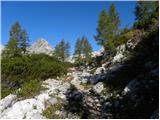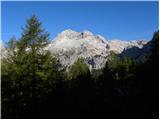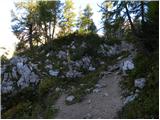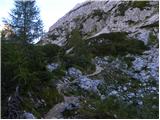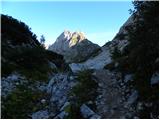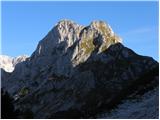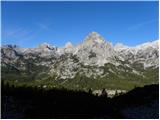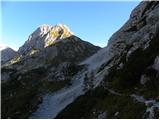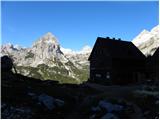 Copyright © 2006-2015
Privacy Policy
, Hribi.net, Mountaineering, Hiking, Trekking, Climbing