| | |
| --- | --- |
| Reklanska dolina - Planina Gorjuda | |
Starting point: Reklanska dolina (700 m)
Destination: Planina Gorjuda (1404 m)
Path name: -
Time of walking: 2 h
Difficulty: difficult marked way
Difficulty of skiing: very demanding
Altitude difference: 704 m
Altitude difference (by path): 704 m
Map: Julijske Alpe - zahodni del 1:50.000
Hiking equipment (summer): helmet
Hiking equipment (winter): helmet, ice axe, crampons

Views: 3282
Trip rating: 1 votes
Number of pictures: 11
Number of comments: 0
Access to starting point (automatic translation):
By Gorenjska over border crossing Rateče zapeljemo to Tarvisio / Tarvisio, and continued driving in the direction of Bovec. Just before Rabeljskim lake, however, turn right towards Nevejskega prevela / Sella Nevea. The Prevala going on the road through a series of tunnels and galleries on the side reklansko. Approximately 1km after the last tunelom or gallery parkiramo on one of the parks along the road. With the Primorske zapeljemo in Bovec, and then across the border crossing landscape. Immediately after the Rabeljskim lake, turn left towards Nevejskega Prevala. Next follows the above description.
Path description (automatic translation):
The parking lots along the road then drop a few tens of meters to the place where the left side of the road markings to be seen climbing the mountain Gorjuda (Caserta Goriuda). The path we took to the woods where the first zložno then all strmeje climbs. After 20 minutes of good walking path leads us to first demanding work, where with the help of jeklenice cut across a wide and protected artificially policy. A similar transition is then repeated twice more, at all crossings but we monitor the water curljanje chapel, so that we as well wet. The route then climbs strmeje after a sharp and wet danger of slipping slope. All key posts, especially crossing over the grape are well protected. The problem arises only if it is on the way, breaking for a stronger rainfall or odjugi when the grape full of water and then switch disabled. Then a little steep discounts and much overgrown path through the forest then we brought under the rock cliff, where the route turns hard left. Through jeklenice another short cut across a slightly exposed location, then the problem disappears. Next we lead the way quickly from the forest and in front of you zagledamo old pastirsko cottage (converted into bivouac) on the mountain Gorjuda.
Trip can be prolonged to next destinations: Bivouac Marrusich (2 h), Sart / Žrd (3 h 15 min)
Recommended: similar trips, trips from the same starting point,
Share:

facebook

Twitter

myspace
Digg
delicious

reddit
Netlog
Pictures: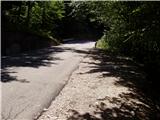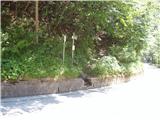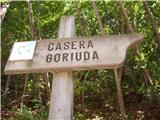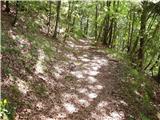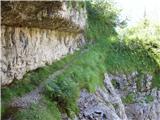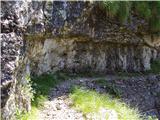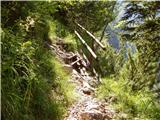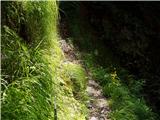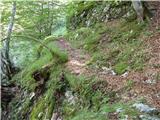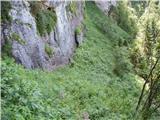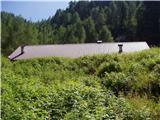 Copyright © 2006-2015
Privacy Policy
, Hribi.net, Mountaineering, Hiking, Trekking, Climbing