| | |
| --- | --- |
| Ravenska Kočna - Mrzla gora (Slovenian way) | |
Starting point: Ravenska Kočna (1000 m)
Destination: Mrzla gora (2203 m)
Path name: Slovenian way
Time of walking: 5 h 45 min
Difficulty: very difficult marked way
Difficulty of skiing: very demanding
Altitude difference: 1203 m
Altitude difference (by path): 1500 m
Map: Kamniške in Savinjske Alpe 1:50.000
Hiking equipment (summer): helmet, self belay set
Hiking equipment (winter): helmet, self belay set, ice axe, crampons

Views: 23797
Trip rating: 3 votes
Number of pictures: 60
Number of comments: 20
Access to starting point:
We drive towards Jezersko. When we come to a gas station in Jezersko we turn right towards Planšarsko jezero (lake). We keep driving towards cargo cable railway for Češka koča. We cross a long meadow which ends with a forest. Road makes a turn here and crosses a awift. Road turns to right again. We must be careful now. We can soon see marks for Goli vrh. We park there.
Path description:
We take the road that goes from the parking place and between both cable railways lightly upwards. It soon leaves the forest and continues on dwarf pine, leading us to a ravine, called Žrelo. We have coma to a crossing. Our path goes left and we will have to climb. It is protected, but caution is advised. After the climbing, we find ourselves in dwarf pine again. We continue steep upwards and the path from Žrelo soon joins ours. There are just a few steps to the mountain hut. We then continue left (east). We soon reach a crossing and go right (left: Babe). The path becomes steep for a while and leads us to a tougher part of the way. Steel cable helps us. The path then leads us to wider slopes beneath Ledinski vrh and the view of the glacier under Skuta is amazing (on the right). We then reach the Jezersko saddle and the border with Austria. We continue right and traverse t Savinjsko saddle almost horizontal (10 min). We descend from the saddle towards Okrešje and reach a small bivouac in a few minutes. We can write our names in a memorial book. As we descend some more, we come to a crossing. The path to the right leads upwards to Štajerska Rinka, but we continue with our descent. Soon our path turns left (at height 1700m) and branches off to Mrzla gora. It rises at fist and brings us to a cross-path over a rock plate. You should use helmets here! The path then leads us in a ravine and we have to climb. The path is well protected at first but the help soon disappears. An unprotected climbing follows over pyramid shaped slopes. Beware of the falling rocks! Before we reach the top, we feel as if this is the peak, but it is not so. On the top of the pyramid a very exposed traversing follows (no protection) and the path turns left and starts to lead us upwards (again, no protection). We are now walking along a mountain crest, which is exposed in some parts. The path then turns right and brings us to the top in 30 min. The path is steep and not protected. The kit for self protecting comes in handy only on the way to Kranjska hut.
On the way: Kranjska koča na Ledinah (1700m), Jezersko sedlo (2034m), Savinjsko sedlo (2020m), Bivak pod Mrzlim vrhom (1980m)
Recommended: panorama, similar trips, trips from the same starting point, trips with the same destination
Share:

facebook

Twitter

myspace
Digg
delicious

reddit
Netlog
Pictures: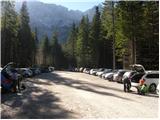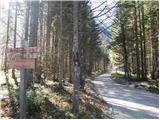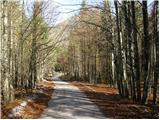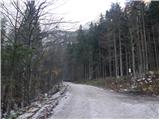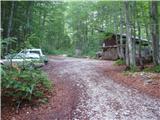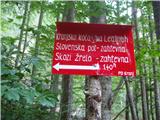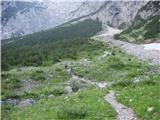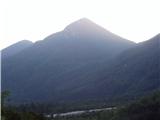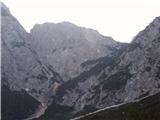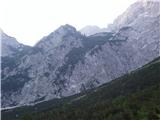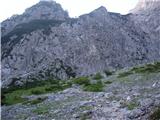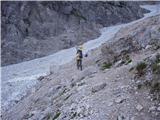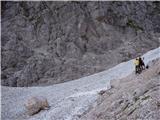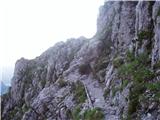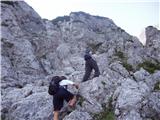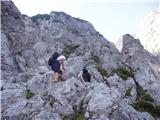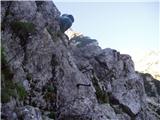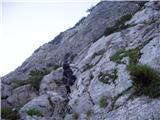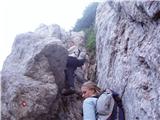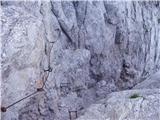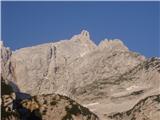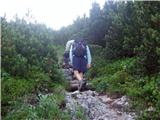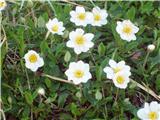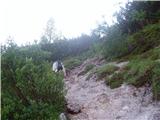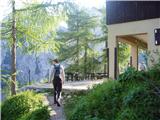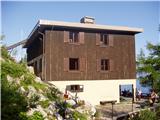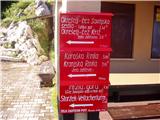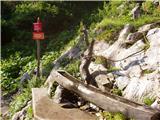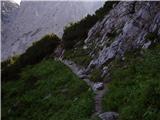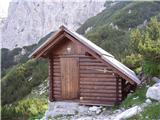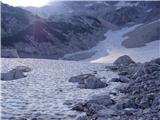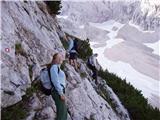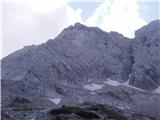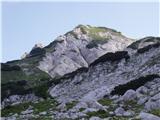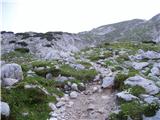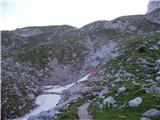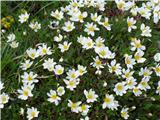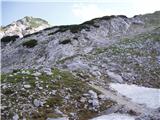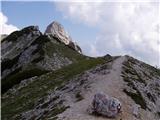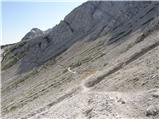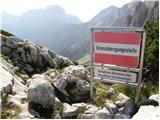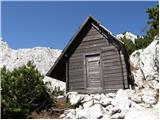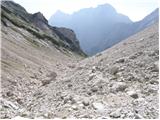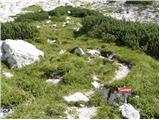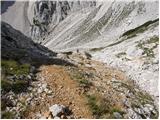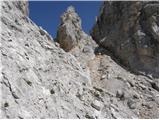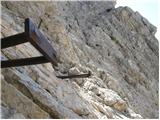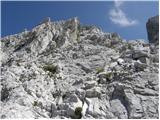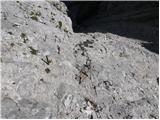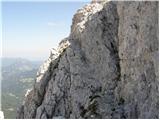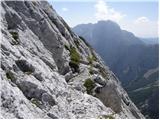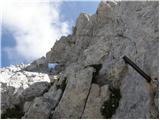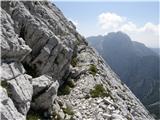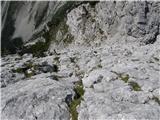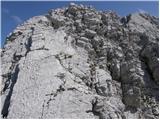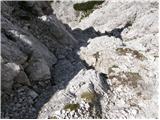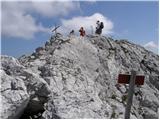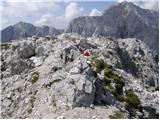 Copyright © 2006-2015
Privacy Policy
, Hribi.net, Mountaineering, Hiking, Trekking, Climbing