| | |
| --- | --- |
| Ravenska Kočna - Jezerska Kočna (past the cableway and on Kremžarjeva pot) | |
Starting point: Ravenska Kočna (1000 m)
Destination: Jezerska Kočna (2540 m)
Path name: past the cableway and on Kremžarjeva pot
Time of walking: 5 h
Difficulty: very difficult marked way
Difficulty of skiing: very demanding
Altitude difference: 1540 m
Altitude difference (by path): 1540 m
Map: Kamniško Savinjske Alpe 1:50.000
Hiking equipment (summer): helmet, self belay set
Hiking equipment (winter): helmet, self belay set, ice axe, crampons

Views: 108781
Trip rating: 14 votes
Number of pictures: 47
Number of comments: 142
Access to starting point:
We drive towards Jezersko. When we come to a gas station in Jezersko we turn right towards Planšarsko jezero (lake). We keep driving towards cargo cable railway for Češka koča. We cross a long meadow which ends with a forest. Road makes a turn here and crosses a awift. Road turns to right again. We must be careful now. We can soon see marks for Goli vrh. We park there.
Path description:
At the cableway the path goes behind lower stop of the cableway in the direction of Češka koča, and at first it slowly goes up through a wide path, which leads us to a big opening after only a few minutes. This path over this opening is usually muddy so be careful. After 20 minutes the path gets us to the bench at the undistinctive ridge. The path continues through the forest and in the next 20 minutes gets us to the crossroad. The path from pasture connects to us. We head left and after a few minutes we get to another crossroad. Here the path from Makekova Kočna connects to us. Right after that we get to the first safety equipment like steel wire or steps. It's not that distinctive but it can be slippery when wet so be careful. When we get through the hard part of the way, there is only 10 minutes of easy around-looking walk left to the cottage. From cottage on we follow the path leading on Kočna and Grintovec. This path gets us to a flat ground with an H sign on the floor. The helicopter lands here when necessary. The path now goes through a scree, partly overgrown with dwarf pines, and goes up towards the walls. After half an hour we get to the crossroad. We go right towards Kočna and still go up through an overgrown scree up to Zgornja Raven. On Raven the path turns sharply to the right. We go through a scree, and the path is still turning right until it gets to the mountain crest. There is a beautiful view of a previous cottage and Jezersko under it. The climbing path starts here, if we have our safety equipment with us, we can use it from here on. Climbing is a real mountain experience, and if the path is clear, then it is not that dangerous. We notice a natural window along the way. From now on, it's not a long way to Zdolška Škrbina ahead of us. A view towards south opens on Zdolška Škrbina. We go sharply to the right there (levo=grintovec, forward=Cojzova koča). We soon get to one of the most interesting crossings. Bellied crossing. We have to crawl on our belly, because the crossing is so low, we can't do it the other way. An easy way is left to the top. At first we ascent through a scree and then over steep path towards the top with some wires and pins. The top doesn't have that much space. The view is wonderful.

On the way: Češka koča na Spodnjih Ravneh (1542m), Zdolška škrbina (2317m)
Trip can be prolonged to next destinations:
Kokrska Kočna (30 min)
Recommended: panorama, similar trips, trips from the same starting point, trips with the same destination
Share:

facebook

Twitter

myspace
Digg
delicious

reddit
Netlog
Pictures: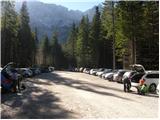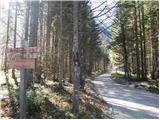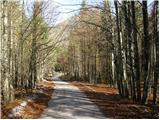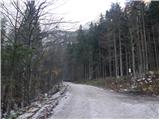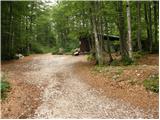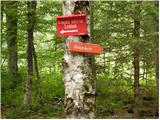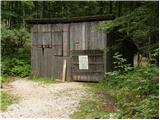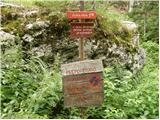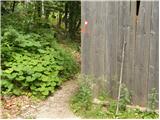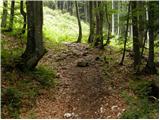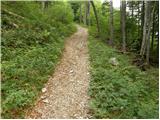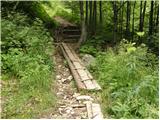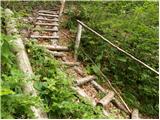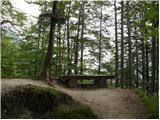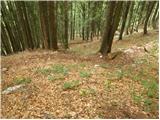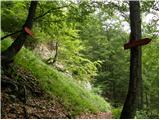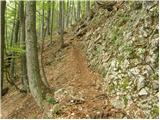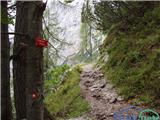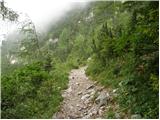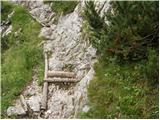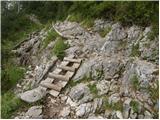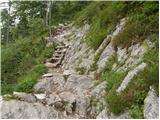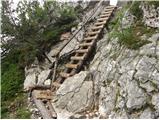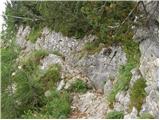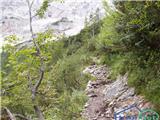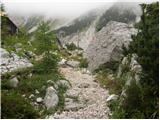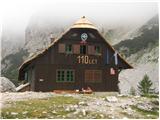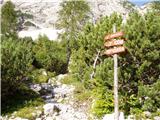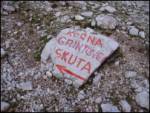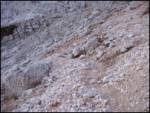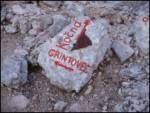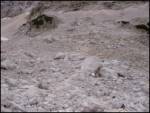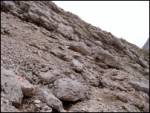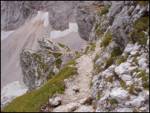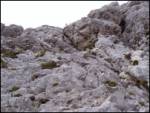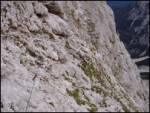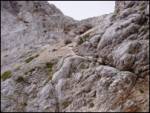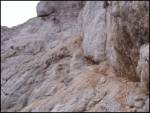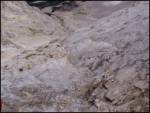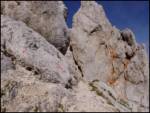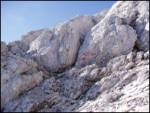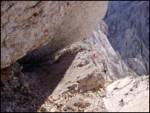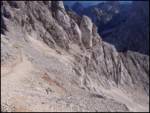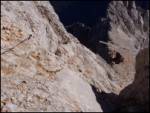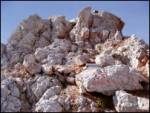 Copyright © 2006-2015
Privacy Policy
, Hribi.net, Mountaineering, Hiking, Trekking, Climbing