Starting point: Pri Rosu (685 m)
Destination: Jezero Kreda (715 m)
Path name: -
Time of walking: 0 h 15 min
Difficulty: easy marked way
Difficulty of skiing: no data
Altitude difference: 30 m
Altitude difference (by path): 33 m
Map: TNP 1:50.000
Hiking equipment (summer):
Hiking equipment (winter): crampons

Views: 3182
Trip rating: 2 votes
Number of pictures: 19
Number of comments: 6
Access to starting point (Slovenian language):
Gorenjsko avtocesto zapustimo na izvozu Jesenice - zahod, nato pa z vožnjo nadaljujemo v smeri Kranjske Gore. Le malo pred vasjo Dovje, pa se v levo odcepi cesta, ki pelje proti Mojstrani ter dolinam Krma, Kot in Vrata. Omenjeni cesti v križiščih sledimo v smeri doline Vrata, mi pa se po njej peljemo do parkirišča Pri Rosu.
Path description (Slovenian language):
Na koncu parkirišča se nahajajo številne table, pot pa se že takoj razcepi na dva dela. Mi izberemo levo pot (naravnost Koča pri Peričniku - po cesti), ki preko mostu preči reko Triglavsko Bistrico ter nato na drugi strani nadaljujemo levo (desno pot Triglavske Bistrice k slapu Peričnik in Aljaževemu domu v Vratih). Pot nadaljujemo ob Triglavski Bistrici brez večjih sprememb višine. Prvi odcep v desno "spregledamo", pri drugem pa se usmerimo desno. Od razpotja naprej se pot prične prečno vzpenjati skozi večinoma iglasti gozd ter v nekaj minutah s pobočja preide v manjšo dolinico, po kateri teče potoček. Tu se pot položi in se nadaljuje ob omenjenem prijetnem potočku. Nekaj 10 metrov naprej se nam priključi še pot iz Mojstrane (v opisu poti pot Dovje - jezero Kreda), mi pa tu nadaljujemo desno ter po nekaj korakih prispemo do omenjenega jezera.
Recommended: similar trips, trips from the same starting point, trips with the same destination
Share:

facebook

Twitter

myspace
Digg
delicious

reddit
Netlog
Pictures: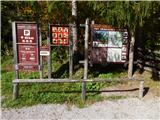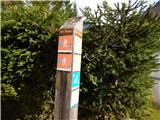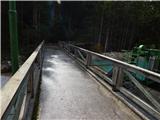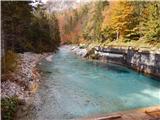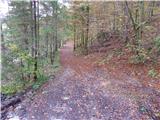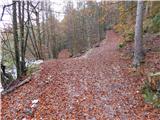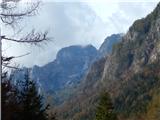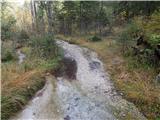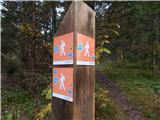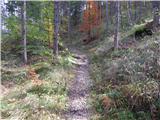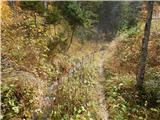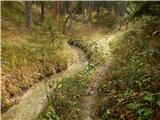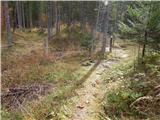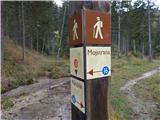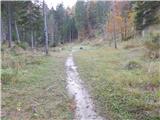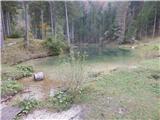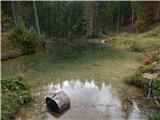 Copyright © 2006-2015
Privacy Policy
, Hribi.net, Mountaineering, Hiking, Trekking, Climbing