Starting point: Pod Krnico (1250 m)
Destination: Tolsta Košuta - eastern peak (2057 m)
Path name: -
Time of walking: 2 h 5 min
Difficulty: partly demanding unmarked way
Difficulty of skiing: more demanding
Altitude difference: 807 m
Altitude difference (by path): 807 m
Map: Karavanke - osrednji del 1:50.000
Hiking equipment (summer):
Hiking equipment (winter): ice axe, crampons

Views: 23885
Trip rating: 3 votes
Number of pictures: 46
Number of comments: 16
Access to starting point:
We drive to Tržič and we keep following the road towards Jelendol and forwards towards village Medvodje. Here we turn to left on a forest road towards Košuta. We drive on a forest road all the way to a crossroad at Košutnik (house) aproximately on 1000 metres. Here we go to right and drive to a parking lot at a stone pit.
Path description:
From the quarry we head down a carriage path which head left from the road. The path leads us through a forest, over a stream and ends up on a clearing. Here the path to the end of the road begins. We continue to the left and we soon reach the Spodnja Dolga Njiva hill. Here is the fork: left Košutnikov Turn, right gornja Dolga Planina hill. We go right! The path goes steeply over a pasture and goes through the forest for a while. When it comes out of the forest we are on Zgornja Dolga njiva. The path continues through a valley between Košuta and Pešivec. The marked path soon turns sharply left and leads to Košutnikov Turn, but we continue down the valley. We can observe the slopes of Košutnikov Turn. Here the markings end. We select the best route through the brush. The best way is just before Mala Košuta. Here we turn left and head up. The path to the summit is visible above but it is not marked. We head steeply up the slope of Košuta, where the path turns slightly to the left and leads us onto a ridge which is quite unusual for Košuta. Again we are walking on the southern slope of Košuta. Beware as snakes are abundant in this area, and it can be quite slippery when wet, but isn't dangerous when dry.
On the way: Planina Spodnja Dolga njiva (1400m), Planina Zgornja Dolga njiva (1580m)
Trip can be prolonged to next destinations:
Tolsta Košuta - western peak (15 min)
Recommended: panorama, similar trips, trips from the same starting point,
Share:

facebook

Twitter

myspace
Digg
delicious

reddit
Netlog
Pictures: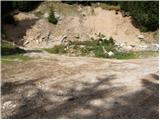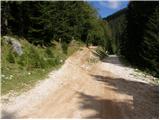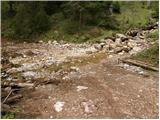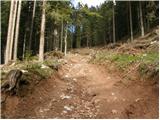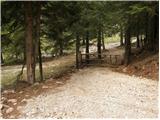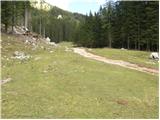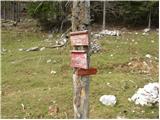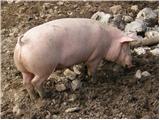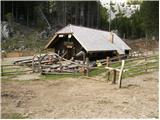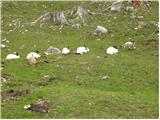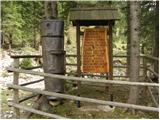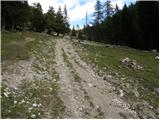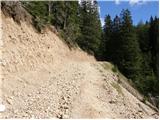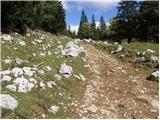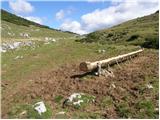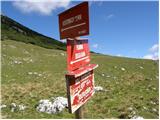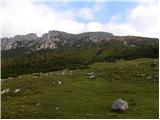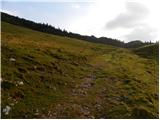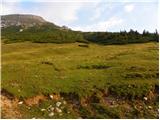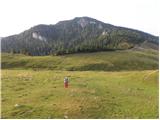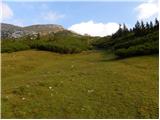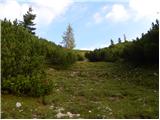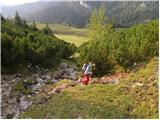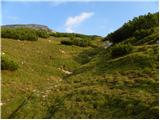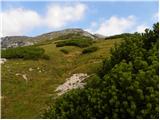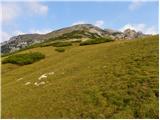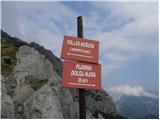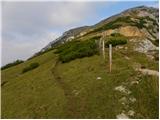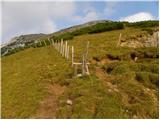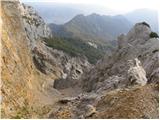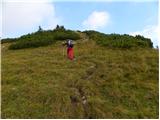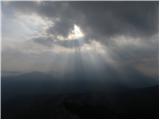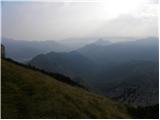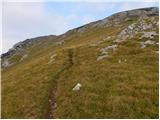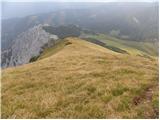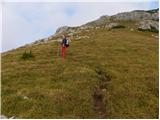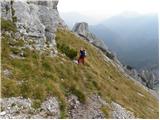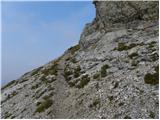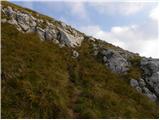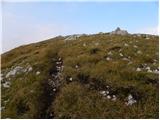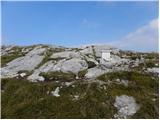 Video: