Starting point: Plužna (450 m)
Destination: Srnica cave (550 m)
Path name: -
Time of walking: 0 h 30 min
Difficulty: partly demanding unmarked way
Difficulty of skiing: no data
Altitude difference: 100 m
Altitude difference (by path): 130 m
Map: Julijske Alpe - zahodni del 1:50.000
Hiking equipment (summer): helmet, lamp
Hiking equipment (winter): helmet, ice axe, crampons, lamp

Views: 4632
Trip rating: 3 votes
Number of pictures: 19
Number of comments: 1
Access to starting point (Slovenian language):
Najprej se zapeljemo v center Bovca, kjer se usmerimo po cesti navzgor, ki gre mimo cerkve naprej proti Kaninski vasi. Cesti sledimo naprej in le ta nas kmalu pripelje na križišče, kjer nadaljujemo levo navzdol proti vasi Plužna (naravnost cesta na Kanin). Cesta nas nato pripelje v vas Plužna, kjer sredi vasi zavijemo ostro desno navzgor. Cesta nas nato pripelje do zadnje hiše v vasi za katero se cesta začne spuščati in nas po 100 m spusta pripelje do smerokazov, kjer v bližini le teh parkiramo na majhnem parkirišču.
Path description (Slovenian language):
Z izhodišča nadaljujemo naravnost navzdol (levo navzdol slap Virje) po cesti, ki se kmalu položi, preči most in nas za njim pripelje do manjšega razpotja. Nadaljujemo desno (levo akumulacijsko jezero 1 minuta) po zložni poti, ki nas po nekaj minutah nadaljnje hoje pripelje do izvira Glijuna.
Pri omenjenem izviru opazimo oznake za kraško jamo Srnica, ki nas usmerijo rahlo levo na peš pot, ki se začne zmerno vzpenjati skozi strnjen gozd. Višje se pot še nekoliko položi, preči pas grmičevja in za tem zavije nekoliko proti levi. Sledi prečenje kratkega razglednega melišča, nato pa nas pot pripelje do hudournika jame Srnica. Na začetku omenjenega hudournika pot zavije v desno in se strmo vzpne do vhoda v jamo Srnica. Zadnji metri pod vhodom v jamo so varovani z vrvjo.
On the way:
Source of Gljun (450m)
Recommended: similar trips, trips from the same starting point,
Share:

facebook

Twitter

myspace
Digg
delicious

reddit
Netlog
Pictures: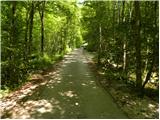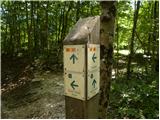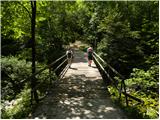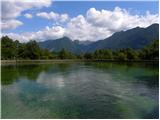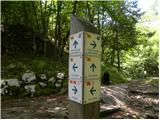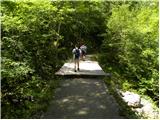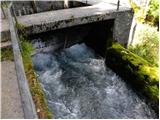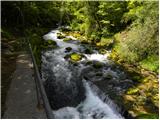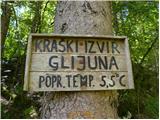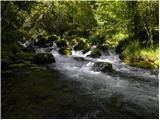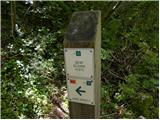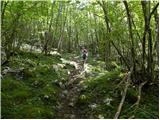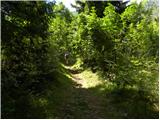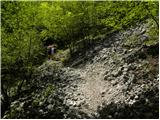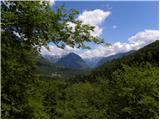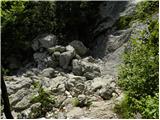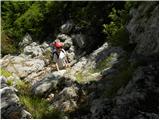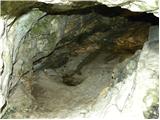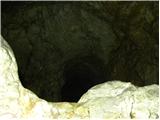 Copyright © 2006-2015
Privacy Policy
, Hribi.net, Mountaineering, Hiking, Trekking, Climbing