Starting point: Pivka (575 m)
Destination: Osojnica (820 m)
Path name: -
Time of walking: 1 h
Difficulty: easy marked way
Difficulty of skiing: easily
Altitude difference: 245 m
Altitude difference (by path): 245 m
Map: Snežnik 1:50.000
Hiking equipment (summer):
Hiking equipment (winter):

Views: 10170
Trip rating: 2 votes
Number of pictures: 12
Number of comments: 2
Access to starting point (automatic translation):
The motorway Ljubljana - Koper is focusing on exports of Postojna and the road to follow the Illyrian Bistrica. The road then leads us to crossings in the village of Oamaru, where the left offs road in the village Trnje, straight and right Knežak Ilirska Bistrica. There continue to the right but only until the next junction, which is located only 50m. In this crossroads leave the main road and is focusing on the right side road, which is called Path to Orlek (street name). Then follow this road to the church in the village before the parkiramo due to space.
Path description (automatic translation):
The parking lot at the church going on the road, which runs parallel to rail. Soon we'll be at the bar noticed telegrafskem Markac, who left us to focus on a narrower road. This narrow road us after a few steps lead to the underpass to get to the crossroads of two kolovozov. Proceed as kolovozu right to be zložno climbs over the large meadow. At the end of the meadow continue on the path which climbs parallel to the fence (straight). The route then begins a moderate climb for all of the more poraščenem slope. After a further few minutes, but it is the way in the woods, where again we see Markac (from the underpass until it is not). The way, most of us climbing up a flight of kolovozu slightly higher lead to the Cross in 1894. The way forward leads Osojnice to predvrh with the complex followed by a short descent and then a moderate ascent to the top.
Recommended: similar trips, trips with the same destination
Share:

facebook

Twitter

myspace
Digg
delicious

reddit
Netlog
Pictures: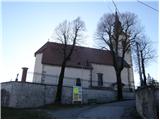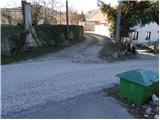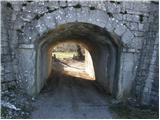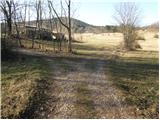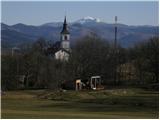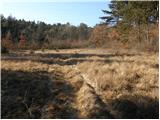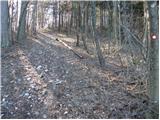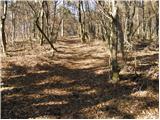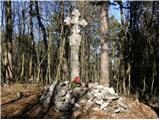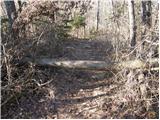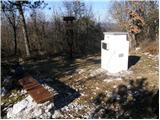 Copyright © 2006-2015
Privacy Policy
, Hribi.net, Mountaineering, Hiking, Trekking, Climbing