| | |
| --- | --- |
| Ljubelj - Dom na Zelenici (lower on the border guard path) | |
Starting point: Ljubelj (1058 m)
Destination: Dom na Zelenici (1536 m)
Path name: lower on the border guard path
Time of walking: 1 h 30 min
Difficulty: easy unmarked way
Difficulty of skiing: no data
Altitude difference: 478 m
Altitude difference (by path): 478 m
Map: Stol in Begunjščica, 1 : 25.000, PZS
Hiking equipment (summer):
Hiking equipment (winter):

Author: Kriška
Views: 13601
Trip rating: 1 votes
Number of pictures: 7
Number of comments: 2
Access to starting point:
We drive to border pass Ljubelj. We turn to left couple of metres before the pass and drive till a parking lot.
Path description (automatic translation):
Lovers walk on grušču under the burning sun will be gone Monday marked the way, everyone else can be deployed around the soft, "upholstered" unlabelled path through the forest on the slopes of the rare Ljubeljščice, which has been designed for the needs of graničarjev. Start our journey at the bottom station of a chair on the lawn, so that a few tens of meters walk along a wide service road under the lift, soon zagledamo clearly on the right track, which brought us right slightly uphill into the forest shelter. The course has always been good Shoji and traceable, withdraw the moderate ascent, all the time in a pleasant shade of beech. Cross a greater number of smaller and larger one GRAPO hudourniško (in the larger you track, which we continue the way you see straight opposite on another bank, strugo torrent only cross), but the crossing does not difficult or exposed. After hours of walking is bad way connected to a few years ago built a service road, just above the intermediate station chairlifts, and over cottage karst sinkhole, which you can see below us on our left hand. Then follow this road to the lodge on the Green. .
On the way: Koča na Vrtači (1288m)
Trip can be prolonged to next destinations: Koča pri izviru Završnice (10 min), Roblekov dom na Begunjščici (1 h 50 min), Klagenfurter Hutte/Celovška koča (2 h 40 min), Spodnji Plot (15 min), Vrh Ljubeljščice (Triangel) (20 min), Na Možeh (45 min), Srednji vrh (above Završnica) (1 h 10 min), Žleb (Suho ruševje) (1 h 10 min), Srednja peč (2 h 35 min), Bielschitza/Svačica (2 h 50 min), Pautz/Zelenjak (1 h 25 min), Selenitza/Palec (1 h 30 min), Begunjščica (2 h 20 min), Prešernova koča na Stolu (3 h 15 min), Vertatscha/Vrtača (2 h), Hochstuhl/Stol (3 h 20 min)
Recommended: panorama, similar trips, trips from the same starting point, trips with the same destination
Share:

facebook

Twitter

myspace
Digg
delicious

reddit
Netlog
Pictures: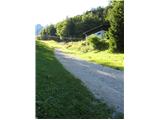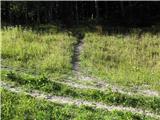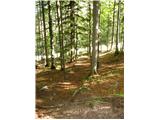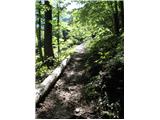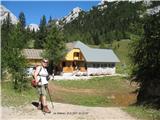 Copyright © 2006-2015
Privacy Policy
, Hribi.net, Mountaineering, Hiking, Trekking, Climbing