| | |
| --- | --- |
| Laško - Mali Grintovec (via Bašeljski vrh) | |
Starting point: Laško (815 m)
Destination: Mali Grintovec (1813 m)
Path name: via Bašeljski vrh
Time of walking: 3 h 30 min
Difficulty: easy marked way
Difficulty of skiing: demanding
Altitude difference: 998 m
Altitude difference (by path): 1100 m
Map: Karavanke - osrednji del 1:50.000
Hiking equipment (summer):
Hiking equipment (winter): crampons, ice axe

Views: 7596
Trip rating: 1 votes
Number of pictures: 44
Number of comments: 0
Access to starting point:
We drive to Preddvor and forward towards village Bašelj. When we com to Bašelj we turn right and follow the road towards marks Storžič and Kališče. Road then brings us to a smaller village called Laško where the asphalt ends. Road is then rising and brings us to a parking lot which is located couple of metres before the end of the road. Do not park at the end of the road because you can obstruct cartage of logs.
Path description (automatic translation):
At the end of the road is focusing on the left kolovoz in Kališča direction and Storžičem. Kolovoz the moderate climbs and us after ten minutes walk leads to a crossroads. Proceed as kolovozu left, which after a few meters run. The path here leaves less dolinico at which had gathered momentum and vzpne sharply to the left direction. After this brief steep climb steep discounts and the path leads to partisan Hospital Košuta. For the hospital route crosses two consecutive torrent and then again strmeje vzpne. The path that will take place through the woods leads to the side Kališča reef, where we join the path of unmarked Bašlja. Woods then become increasingly rare, and occasionally we opened some lovely view of the Storžiču. The path then turns slightly right back in the woods. Suddenly, before you zagledamo house, which is located on the mountain under Kališčem. Only a few meters away but we join path from the village of kitten. Next, the path climbs for about ten minutes through the forest. The path then makes a sharp left turn in front of them zagledamo home on Kališču to which we have just a few steps. From home continued for a broad way to the reef Storžiču. Already after a few minutes, the right-offs on the way to the top Bašeljski. Take the path to us through rušje modest rise in the lead at the top Bašeljski. Last Bašeljskim meters below the top of the snow dangerous for Skating. The summit is going to saddle Mačenskem. This segment is slightly more dangerous of land does not represent a major hazard. The path that descends from the top is in large part channeled Monday ridge, which is slightly exposed cities. By Mačenskega saddle but the path resumes climb. The ascent takes place on a grass slope, which is mainly a hairy with rušjem. Only a few steps below the top come to a crossroads where it is focusing left without any problems, on top. Sing-Planina 1:30. Mountain Home-15min. Bašeljski top home-45min. Bašeljski top-Mali Grintovec 45min.
On the way: Bolnica Košuta (900m), Planina Kališče (1450m), Dom na Kališču (1534m), Bašeljski vrh (1744m), Mačensko sedlo (1615m)
Recommended: panorama, similar trips, trips from the same starting point, trips with the same destination
Share:

facebook

Twitter

myspace
Digg
delicious

reddit
Netlog
Pictures: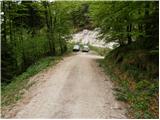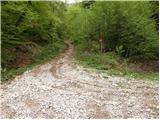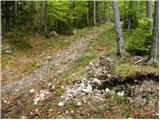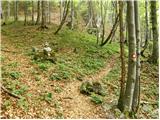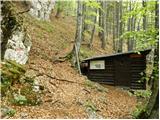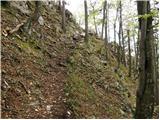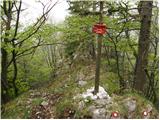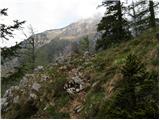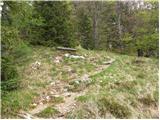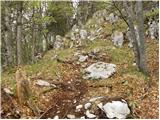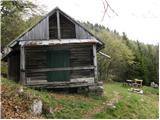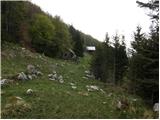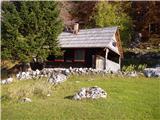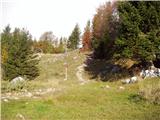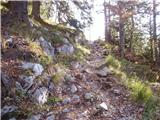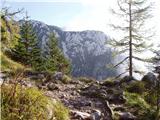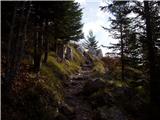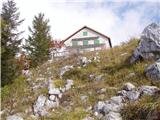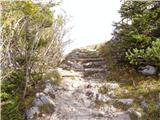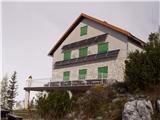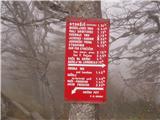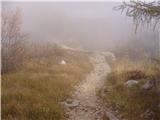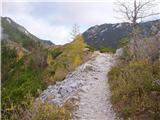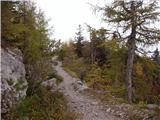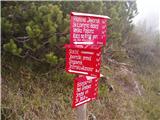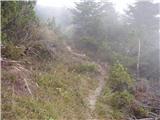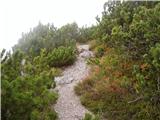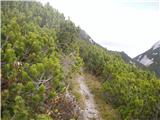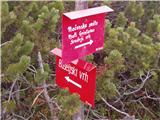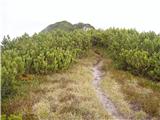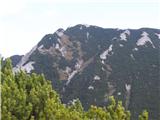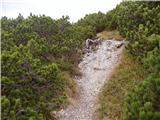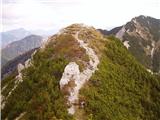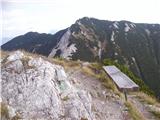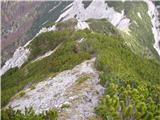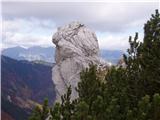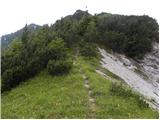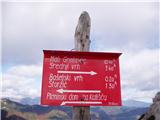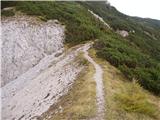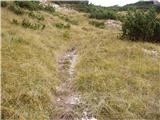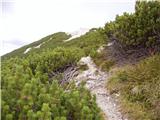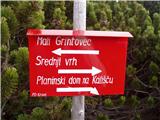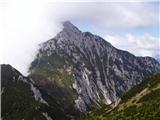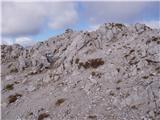 Copyright © 2006-2015
Privacy Policy
, Hribi.net, Mountaineering, Hiking, Trekking, Climbing