| | |
| --- | --- |
| Koschutahaus - Koschutnikturm (Košutnikov turn) (ÖTK Steig Neu) | |
Starting point: Koschutahaus (1280 m)
Destination: Koschutnikturm (Košutnikov turn) (2133 m)
Path name: ÖTK Steig Neu
Time of walking: 2 h 45 min
Difficulty: very difficult marked way
Difficulty of skiing: no data
Altitude difference: 853 m
Altitude difference (by path): 853 m
Map: Karavanke - osrednji del 1:50.000
Hiking equipment (summer): helmet, self belay set
Hiking equipment (winter): helmet, self belay set, ice axe, crampons

Views: 37423
Trip rating: 5 votes
Number of pictures: 31
Number of comments: 37
Access to starting point (automatic translation):
Through the border crossing Ljubelj the zapeljemo in Borovlje / Ferlach where the focusing right towards the village of Sele / Zell-Pharre. Shortly before the board, which indicates the village Sele / Zell-offs Pharre the right road with Koči under Košuto / Koschutahaus. Follow this road until the huts where parkiramo on a large parking lot.
Path description (automatic translation):
The parking lot across the south east of the codes Lärchenturm / Cjajnik, Koschutnikturm / Košutnikov turn. At the beginning of the way, we will also see the big picture Košute and accurately vrisanimi routes to Cjajnik and turn Košutnikov. The path then some time passing through the woods towards the east and us to a crossroads where it is the right way to shed Cjajnik. We continue to proceed through the woods towards the east and the poor in half an hour to get re crossroads. Focusing our right to CN Košutnikov turn, straight down slightly but leads the way towards the village Trkelj / Terkel. The path then continues for some time climbs through the forest and then us in the scree slopes below Košute. After a short prečenju eastwards get to the direction where our path offs right and slightly strmeje vzpne Monday melišču. The left path continues to crosses slopes towards the east. At this point would further noted that the path that leads to Košutnikov turn to the north-east side closed. After the climb over scree enter the part of the way plezalni. From there, we need a mandatory helmet, strongly recommended the use of samovarovanja. The path is steep vzpne on the right grape and us over škrbino. The way it is always well protected by jeklenico and to help us some staples. Over škrbino turns our way up the right, left (north) is škrbino made over the hanging bridge through which you can cut across to the other side stubs. Our path is therefore not the bridge crosses, but sharply vzpne having jeklenici with the help of some staples to the south. On the left side can see prepadno north wall Košutnikovega touring and followed by a short ascent at jeklenici to the main ridge Košute. Here come the less steep southern slopes Košute. Take the left against Košutnikovem Turnu and after a few meters from the right side is still connected western route from Planine lower long field. Proceed as the south side of the ridge and on the road, which becomes somewhat more steep soon, on top.
Recommended: panorama, similar trips, trips from the same starting point, trips with the same destination
Share:

facebook

Twitter

myspace
Digg
delicious

reddit
Netlog
Pictures: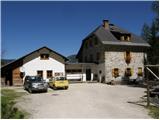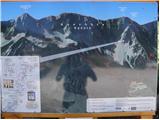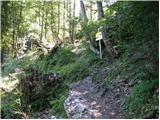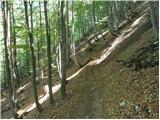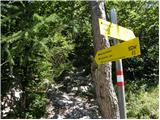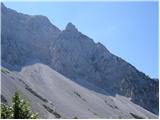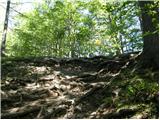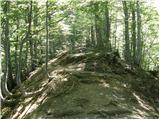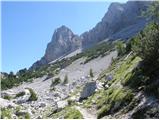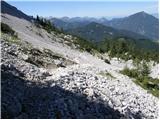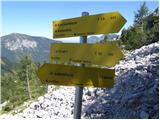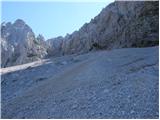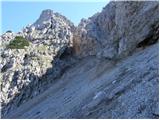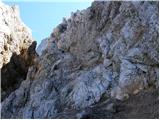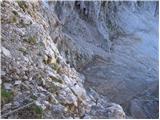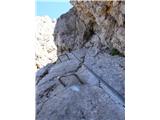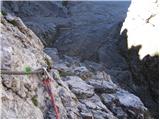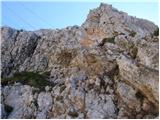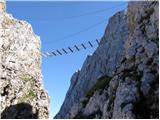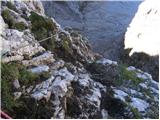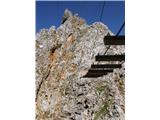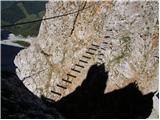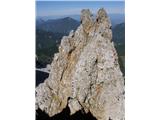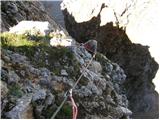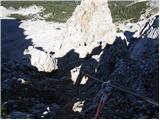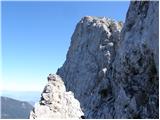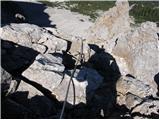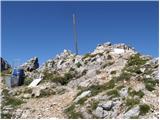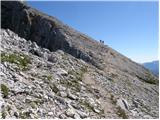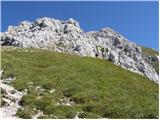 Video:
Copyright © 2006-2015
Privacy Policy
, Hribi.net, Mountaineering, Hiking, Trekking, Climbing