| | |
| --- | --- |
| Jekarica - Dom na Kališču | |
Starting point: Jekarica (994 m)
Destination: Dom na Kališču (1534 m)
Path name: -
Time of walking: 2 h
Difficulty: easy marked way
Difficulty of skiing: demanding
Altitude difference: 540 m
Altitude difference (by path): 640 m
Map: Karavanke - osrednji del 1:50.000
Hiking equipment (summer):
Hiking equipment (winter): crampons, ice axe

Views: 22758
Trip rating: 1 votes
Number of pictures: 24
Number of comments: 8
Access to starting point:
We drive from Preddvor towards Jezersko. We turn left at Kanonir restaurant and keep following the asphalted road. We direct after marks for Storžič in every crossroads. When the road makes a sharp turn we can se indicators for Kališče and Storžič. We park on a parking lot in nearness of an indicator so we dont obstruct forestry part. Road is CLOSED from 20.7. till 20.10. When the road is closed we park lower which extedns our slope for an hour.
Path description (automatic translation):
At the bend are focusing on kolovoz that is left of direction. Already after a few meters on the tree seen Markac which tell us that we are on track. For good five minutes walk but focus our signpost on the left foot path. The path that begins a moderate climb soon lead us to kolovoz which only cut across. The path only a minute to re-crosses kolovoz, then strmeje vzpne. The path is slowly turning slightly to the left and leads to a smaller grebenček where quite closer kolovozu. For some time, the vzpenjamo having kolovozu then we stezice leads to the lookout point where it was Klopca. The way forward again leads us to kolovoz, but this time to the place where only the ends. There is also access kolovozu (all crossroads keeping the direction levih, the beginning is the same). The way forward is slightly more difficult because large amounts of traceable drevja podrtega impossible ascent Monday marked the way it is therefore necessary to find passages that are part Shoji. When you overcome this part of the way back easily traceable only a short time. The way forward is closer to clearing, which is located under the Storžičem and left the trees podrto. Again looking for bridges between trees. A few meters before Praprotnikovo cottage to get back to the highlighted route by which a few steps to get to the huts. The way forward is again sharply vzpne, then turns right and crosses slopes in a gentle ascent to grušča to nanesel torrent. Us the way forward between the two balvanoma and, after a few steps downhill resume climb. Soon we get the rušje, where we open a view. The way forward is vzpne under the walls of Bašeljskega Summit, which circumvent follow the underside of the. Initially a small cut across scree and then the path leads us to GRAPO, which is located between rušjem. The ascent Monday ravine is demanding vigilance is needed mainly in the downhill because of debris, which is located on the basis of stone. The path from the grape leads to a pleasant meadow in which we view opens on the south side. In signposts, turn left toward Kališču. The wide path after passing the south side of Bašeljski the top, followed by a slight downhill Monday lookout way home to drop to Kališču.
On the way: Praprotnikova koča (1380m), Bašeljski preval (1630m)
Trip can be prolonged to next destinations: Bašeljski vrh, Mali Grintovec, Storžič
Recommended: panorama, similar trips, trips from the same starting point, trips with the same destination
Share:

facebook

Twitter

myspace
Digg
delicious

reddit
Netlog
Pictures: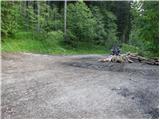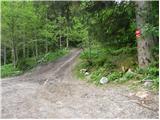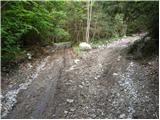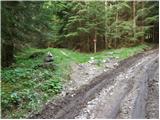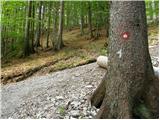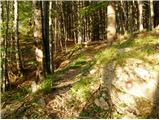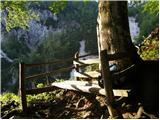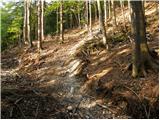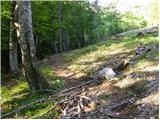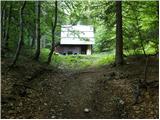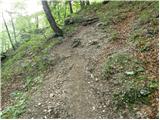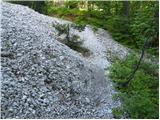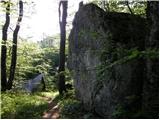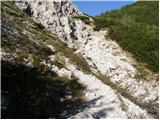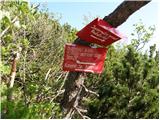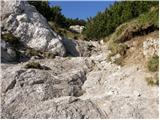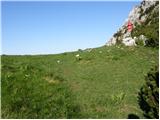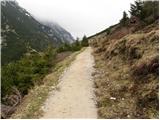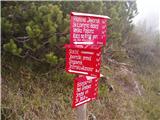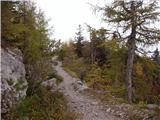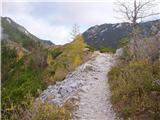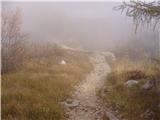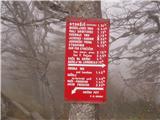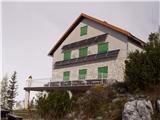 Copyright © 2006-2015
Privacy Policy
, Hribi.net, Mountaineering, Hiking, Trekking, Climbing