| | |
| --- | --- |
| Hotel Plesnik - Strelovec (via Rkljeva peč) | |
Starting point: Hotel Plesnik (760 m)
Destination: Strelovec (1763 m)
Path name: via Rkljeva peč
Time of walking: 3 h
Difficulty: partly demanding marked way
Difficulty of skiing: more demanding
Altitude difference: 1003 m
Altitude difference (by path): 1005 m
Map: Kamniške in Savinjske Alpe 1:50.000
Hiking equipment (summer): helmet
Hiking equipment (winter): helmet, ice axe, crampons

Views: 23823
Trip rating: 3 votes
Number of pictures: 27
Number of comments: 24
Access to starting point (automatic translation):
Zapeljemo in Luče (until I was in Mozirje or over Kranjska cancer) and towards the valley Logarska. For the village Solčava soon arrive at the intersection where the road left offs in the valley Logarska. Turn left toward Logarska Valley (tolls) and pass the crossing, where we continue on the left road (slightly right Rinka waterfall), then follow which to a large parking lot near the hotel Plesnik (parking in front of the hotel is allowed only guests).
Path description (automatic translation):
The parking lots are focusing on sprehajalno path that we wanted Plesnik in the past few minutes lead to Slapišče Palenk. When observed mountainous waterfalls board with the inscription Strelovec and Icmankov apartment, which left us to focus. The route then sharply vzpne after a sharp and wet danger of slipping slope, which is also exposed at the same time decreasing kamenju. The steep path leads us quickly to the stream (over a waterfall), which is less a policy loop. Here we continue hard left for unsatisfactory Uhoje, a marked path (right path leading to a stream SLAPIĆ Palenk), which continues to climb sharply. Higher steep discounts for a short time, but only to cut across as slightly exposed steep hillside below Rkljevo pečjo (jeklenica). The path is then reintroduced into the forest and the higher path connected with the mountain Plesnikove. Proceed left Monday for marginally less steep path to us at some reduced to lead to a wooden house. From the cabin, which is located on a small nerazgledni clearing the way for return to the woods, where the then climbs to the edge of Icmanikove mountains, where the crossroads. Proceed in the right direction Strelovca (left viewing point Logarska oven 5 minutes) on the path to the mountain quickly returned to the woods. The route then climbs through the forest, concise and has some minor landmarks loops. During the rise of us monitor the two parallel track, but both are marked. I advise that all the time keeping the left path, because right in the upper part makes a big bend. If we continue on the left path, only to pass from time to time in the woods summary increasingly viewing slopes. When the path leads us to the main reef also steep discounts. Here the path turns slightly to the right and us of lightly poraščenem ridge in the several tens of steps leading to the top Strelovca.
On the way: The Palenk waterfall (730m), Icmanikova planina (1520m)
Recommended: panorama, similar trips, trips from the same starting point, trips with the same destination
Share:

facebook

Twitter

myspace
Digg
delicious

reddit
Netlog
Pictures: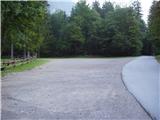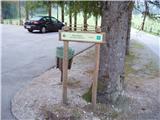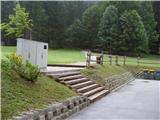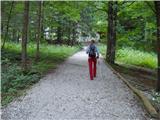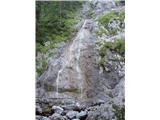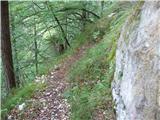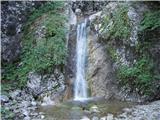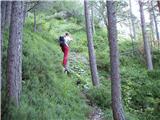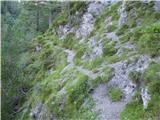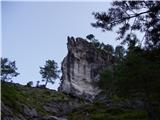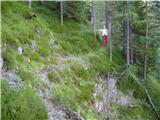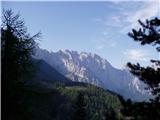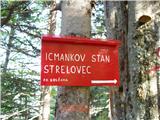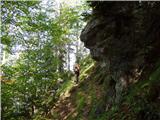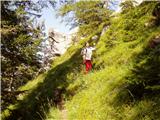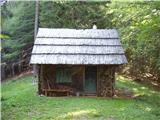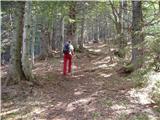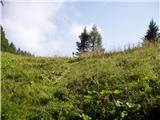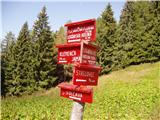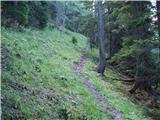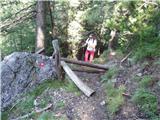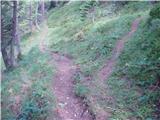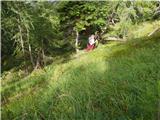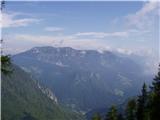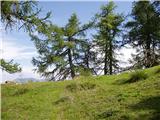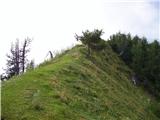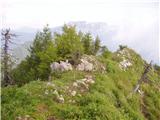 Copyright © 2006-2015
Privacy Policy
, Hribi.net, Mountaineering, Hiking, Trekking, Climbing