| | |
| --- | --- |
| Dom v Tamarju - Jalovec (winter climbing ascent through winter chimney) | |
Starting point: Dom v Tamarju (1108 m)
Destination: Jalovec (2645 m)
Path name: winter climbing ascent through winter chimney
Time of walking: 5 h 30 min
Difficulty: very difficult pathless terrain
Difficulty of skiing: very demanding
Altitude difference: 1537 m
Altitude difference (by path): 1537 m
Map: TNP 1:50.000, Kranjska Gora 1: 25.000, Julijske Alpe-zahodni del, 1: 50.000
Hiking equipment (summer):
Hiking equipment (winter): helmet, ice axe, crampons, lamp

Author: JusAvgustin
Views: 20059
Trip rating: 6 votes
Number of pictures: 14
Number of comments: 1
Access to starting point (Slovenian language):
Iz Kranjske Gore se peljemo proti mejnemu prehodu Rateče, a le do mesta, kjer se (pri vasi Rateče) levo odcepi cesta v Planico in dolino Tamar. Cesta, ki se zmerno vzpne nas kmalu pripelje do velikega parkirišča pri skakalnicah v Planici. Od tu nadaljujemo po makadamski cesti v smeri doma v Tamarju, kateri nato sledimo do parkirišča, ki se nahaja v bližini planinskega doma.
Po novem je cesta v dolino Tamar zaprta. To nam podaljša pot za približno 1 uro.
Path description (Slovenian language):
Po gazi se usmerimo proti oznaki, ki nakazuje smer Jalovca. Po kratkem sprehodu skozi gozd, kaj kmalu stopimo na prostrana snežišča pod Šitami. Nadaljujemo v smeri znamenitega Jalovčevega ozebnika. Do vstopa v ozebnik se pot zložno dviguje, v ozebniku pa postane pot bolj strma. Ko smo v ozebniku se nam zazdi, kot da se vzpenjamo med dvema stolpnicama. Ob koncu izteka se ozebnik spet postavi malo bolj pokonci. Kmalu ta tesnoben občutek mine in pokukamo na Primorsko stran. Iz ozebnika se usmerimo na desno in kmalu opazimo zelo jasno razčlembo v skali: zimski kamin. Skozi zimski kamin (lahko je leden) nas čaka približno 20 metrov plezanja do pričetka t.i. Jalovčeve strehe. Po strehi se vzpnemo na glavni greben in od tam na vrh.
Planica-Tamar: 30min, Tamar-Vrh Ozebnika: 3h, Zimski kamin-Jalovec: 1h 30min.

Opozorilo. časi navedeni so zgolj informativnega značaja in v veliki meri odvisni od trenutnih razmer. Jalovec pozimi spada med plezalni vzpon, naklonina pobočja je do 40°(v zimskem kaminu bistveno več, 20 m). Na turi je več plazovitih mest. V ozebniku je nevarnost padajočega kamenja, snega in kosov ledu, priporoča se vzpenjanje ob steni. Sestopimo po grebenu in nato po izpostavljeni prečnici do Ozebnika. V ozebniku je velika nevarnost zdrsa!
Recommended: panorama, similar trips, trips from the same starting point, trips with the same destination
Share:

facebook

Twitter

myspace
Digg
delicious

reddit
Netlog
Pictures: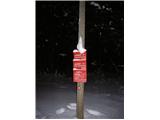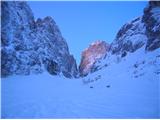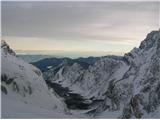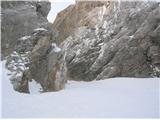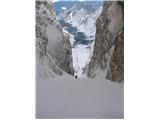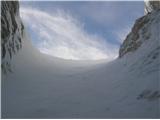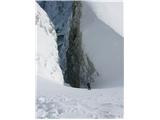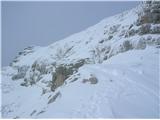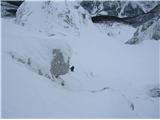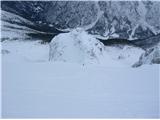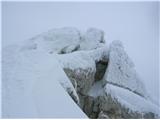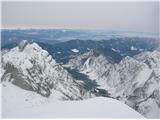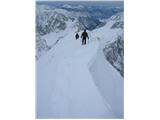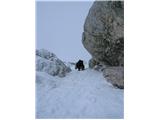 Video:

Copyright © 2006-2015
Privacy Policy
, Hribi.net, Mountaineering, Hiking, Trekking, Climbing