Starting point: Čepulje (672 m)
Destination: Špičasti hrib (837 m)
Path name: -
Time of walking: 0 h 40 min
Difficulty: easy marked way
Difficulty of skiing: no data
Altitude difference: 165 m
Altitude difference (by path): 185 m
Map: Škofjeloško in Cerkljansko hribovje 1:50.000
Hiking equipment (summer):
Hiking equipment (winter):

Views: 6857
Trip rating: 2 votes
Number of pictures: 15
Number of comments: 2
Access to starting point (Slovenian language):
Najprej se zapeljemo v Kranj (Labore), od tam pa z vožnjo nadaljujemo v smeri Stražišča, Pševa ter Svetega Jošta nad Kranjem. Višje pridemo do vasi Javornik, s katere se v desno odcepi cesta proti vrhu Jošta, mi pa nadaljujemo naravnost v smeri vasi Čepulje. Ko pridemo v Čepulje nadaljujemo desno (levo Planica in Lavtarski Vrh) ter z vožnjo nadaljujemo še približno 100 m do označenega parkirišča.
Path description (Slovenian language):
S parkirišča se usmerimo na strmo cesto v smeri Špičastega hriba in Svetega Mohorja. Cesta, ki poteka skozi gozd, se višje položi ter se nato nadaljuje z nekaj krajšimi vzponi in spusti. Ko cesta po približno 20 minutah hoje preide na zahodna pobočja postanemo pozorni, saj bomo na desni strani zagledali začetek pešpoti, ki vodi na Špičasti hrib (odcep je označen, a težje opazen). Usmerimo se na omenjeno stezico, ki se najprej strmo vzpne, nato pa nas v zmernem vzponu skozi gozd hitro pripelje na omenjeni vrh.
Recommended: similar trips, trips from the same starting point, trips with the same destination
Share:

facebook

Twitter

myspace
Digg
delicious

reddit
Netlog
Pictures: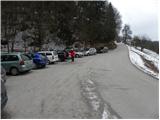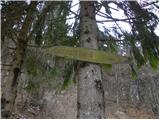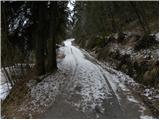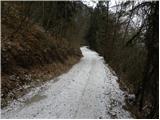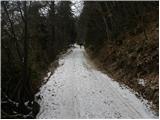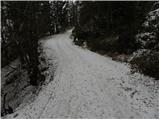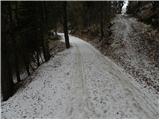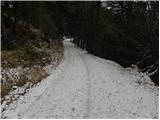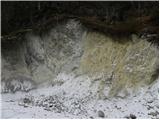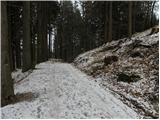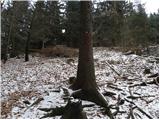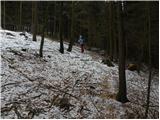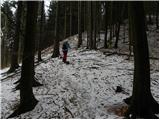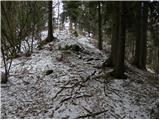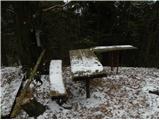 Copyright © 2006-2015
Privacy Policy
, Hribi.net, Mountaineering, Hiking, Trekking, Climbing