| | |
| --- | --- |
| Rifugio Nordio - Gozman (via Lom) | |
Starting point: Rifugio Nordio (1210 m)
Destination: Gozman (1804 m)
Path name: via Lom
Time of walking: 1 h 45 min
Difficulty: easy unmarked way
Difficulty of skiing: easily
Altitude difference: 594 m
Altitude difference (by path): 594 m
Map: Julijske Alpe - zahodni del 1:50.000
Hiking equipment (summer):
Hiking equipment (winter): ice axe, crampons

Views: 3081
Trip rating: 1 votes
Number of pictures: 28
Number of comments: 0
Access to starting point:
We drive to Trbiž (Tarvisio) which is only couple of kilometres behind state border on Italian side of border pass Rateče. We can also get to Tarvisio from Austria. But first we have to drive to Beljak. Then we pass a border pass Thori-Coccau and drive to Tarvisio. When we come to Tarvisio we must follow marks for Udine (old road, not the highway). Soon after Tarvisio we come to village Ugovizza where we turn right into center of the village. There is a brook in the middle of the village where an asphalted mountain road branches left upwards. We follow this road till a crossroads where we go straight on (right) and we soon come to another crossroads where we go left.We keepo following this road all thew way to cottage rifugio Nordio. We park there on a parkin lot.
Path description (automatic translation):
The parking lots are across the street to the left of passing failing huts Nordio. The road begins a moderate climb and us in okljukih lead to the location where the exposed declining kamenju. Despite the protection network, which is located just above the street, caution. Ideally, this part as quickly as possible, leave. For that cut across a stream and to vzpenjamo north to the crossroads. Right to shed the direct route to Ojstrnik we will continue straight to wooded road, which is soon to change the route on foot. The path then leads us on the lawn, which will lead to the state border. Here already we see the mountain to which we have just a few steps. The mountain is back to the panels to the border and only a few meters above it, find the marked path that leads to the mountain Bistrica. Exit marked only with the Austrian markings. The path then goes into a dark forest and crosses slopes initially almost horizontally, and then be connected direct journey from the huts Nordio. The way forward is sharply vzpne continue through the woods. Steep discounts and then the path leads from forest to pasture on the mountain Bistrica. To be followed by a ten-minute walk on zložnem Meadow hišk to the mountain, which have already seen in front of you. When we get to the macadam road to the mountain we on the right side observed signposts. Here are focusing our direction and proceed to the south. Already after a few meters left marked stezico, which leads to the chapel. Take slight right onto neporaščena peak slopes Gozmana. Here we see unmarked stezico to us in the cross climb over a slight rise in the lawn leads to the top Gozmana. Nordio-Lom 45min. Lom-Bistrica 45min. Bistrica-Gozman 15min. .
On the way: Planina Dolnica (sedlo Lom) (1499m), Planina Bistrica (Hutte Oisternig) (1722m)
Recommended: panorama, similar trips, trips from the same starting point, trips with the same destination
Share:

facebook

Twitter

myspace
Digg
delicious

reddit
Netlog
Pictures: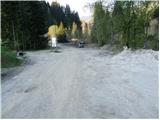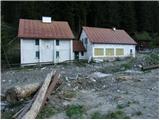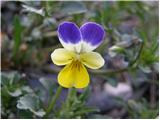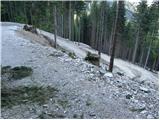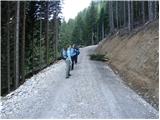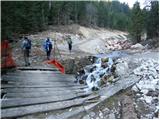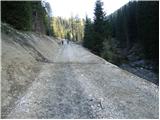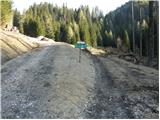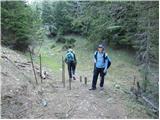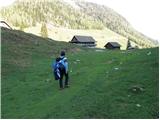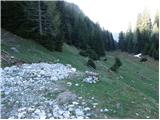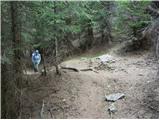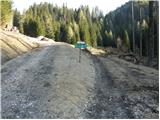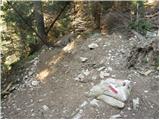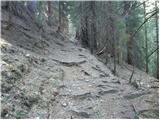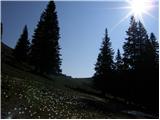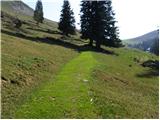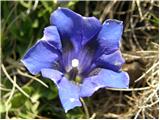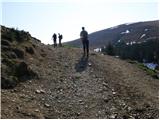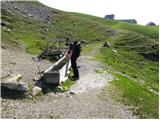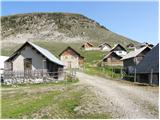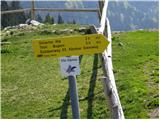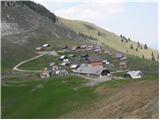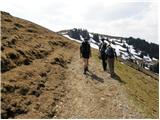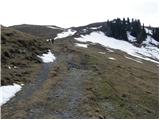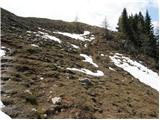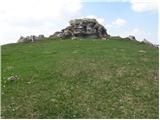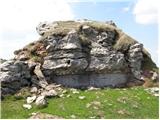 Copyright © 2006-2015
Privacy Policy
, Hribi.net, Mountaineering, Hiking, Trekking, Climbing