Views: 3897
Popularity: 29% (2145th place)
Number of paths: 2
Number of GPS tracks: 0
Description of mountain (Slovenian language):
Gozdarska koča na Babi se nahaja na Jelovici, ob robu razglednega pobočja, s katerega se odpre lep pogled proti Julijskim Alpam, Karavankam ter Blejskemu jezeru z okolico. Baba je predel okoli 1082 metrov visokega neimenovanega vrha (tako na zemljevidih), ki se nahaja med planino Prihod in Danejevo planino. Kakih 50 metrov vzhodno do jugovzhodno od gozdarske koče pa se nahaja še ena koča.
Webcams in radius of km:
Bled, Blejsko jezero, Bohinjska Bistrica, Brezje, Dražgoše, Jesenice, Kobla, Koča na Dobrči, Koča na Uskovnici, Kravja Črna gora, Lesce, Moste, Petrovo Brdo, Podtabor, Podvin, Pokljuka, Prešernova koča na Stolu, Ratitovec, Ravne v Bohinju, Roblekov dom na Begunjščici, Rudno, Soriška planina, Valvasorjev dom pod Stolom, Viševnik, Zgornja Sorica, Zgornji Goreljek (Pokljuka)
Share:

facebook

Twitter

myspace
Digg
delicious

reddit
Pictures: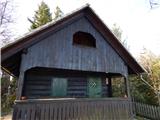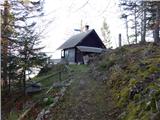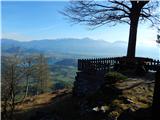 Copyright © 2006-2015
Privacy Policy
, Hribi.net, Mountaineering, Hiking, Trekking, Climbing