| | |
| --- | --- |
| Koča pod slapom Rinka mountain hut - Kamniška koča na Kamniškem sedlu mountain hut | |
Starting point: Koča pod slapom Rinka mountain hut (930 m)
Destination: Kamniška koča na Kamniškem sedlu mountain hut (1864 m)
Path name: -
Time of walking: 2 h 45 min
Difficulty: difficult marked way
Difficulty of skiing: very demanding
Altitude difference: 934 m
Altitude difference (by path): 934 m
Map: Kamniške in Savinjske Alpe 1:50.000
Hiking equipment (summer): helmet
Hiking equipment (winter): helmet, ice axe, crampons

Views: 70237
Trip rating: 4 votes
Number of pictures: 38
Number of comments: 67
Access to starting point (automatic translation):
Zapeljemo in Luče (until I was in Mozirje or over Kranjska cancer) and towards the valley Logarska. For the village Solčava soon arrive at the intersection where the road left offs in the valley Logarska. Turn left toward Logarska Valley (tolls) and pass on the road to the parking lot when hut under a waterfall Rinka, where parkiramo.
Path description (automatic translation):
The parking lots are focusing on a wide tourist route, which starts zložno climb. A good ten minutes walk come from the forest, where we come to a crossroads. Take the right and, after a number stairs, to achieve Messier nests from which the lovely view of the waterfall. From here we go back to the crossroads where the home focusing on Okrešlju. The path crosses mostiček and on the other hand, starts climb. After a short climb a steep path leads us on the walls, from which follows Crossing to the top of the waterfall. This part is exposed to declining kamenju. The path crosses savinjo then again, and continue through the stairs to climb up the river. Next vzpenjamo the right-hand (left Bank) Savinja. Will soon get to the source Savinja where excess water again. On the other hand, there is a concise way in the forest and us after a short climb leads to winter shelters in the Okrešlju. Proceed left and in a few steps to get home to Okrešlju. When the house is focusing on the path towards the World Kamniškega and saddle. Soon the path leads us to the edge of a viewing pasture, where we come to a crossroads. Proceed left in the direction of Kamniškega saddle on the path to be initially moderate climbs through the forest and then across the zone shrubs. The path is then fully and lodged us in a short prečenju lead to the scree which, after nadelani good way to achieve entry into the wall less onerous. Next is through a number of safeguards povzpnejo higher rate, which is slightly steep discounts, but the path is still quite steep and exposed declining kamenju. Higher us the path leads to the steep and the snow to slip dangerous scree, which only cut across. Followed by a brief rise of the broad and somewhat exposed to fields for which we lead the way on the spacious grassy slopes Kamniškega saddle. Only a few steps to arrive at a crossroads, where we continue the left (right Turska mountains and dam) and after the screw path surrounded by meadows within a few minutes going to Kamniške huts.
On the way: Orlovo gnezdo mountain hut (Rinka waterfall) (1000m), Dom na Okrešlju mountain hut (1396m)
Trip can be prolonged to next destinations: Turska gora, Brana, Planjava
Recommended: panorama, similar trips, trips from the same starting point, trips with the same destination
Share:

facebook

Twitter

myspace
Digg
delicious

reddit
Netlog
Pictures: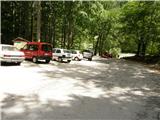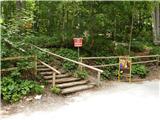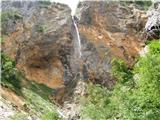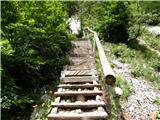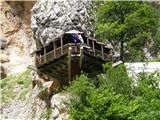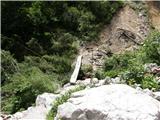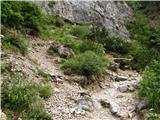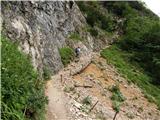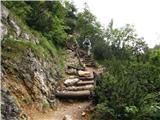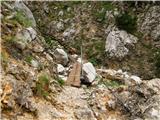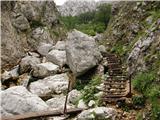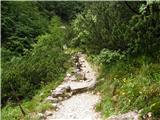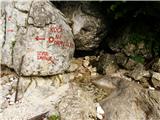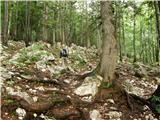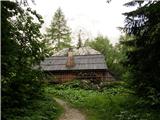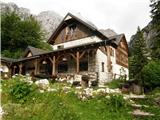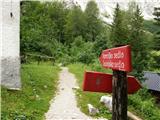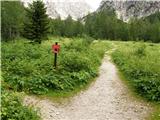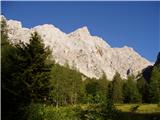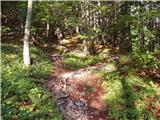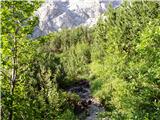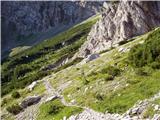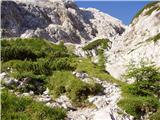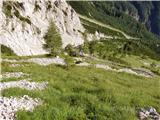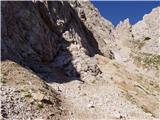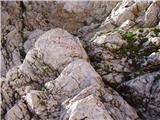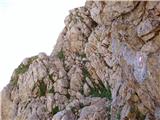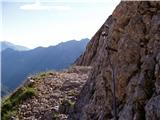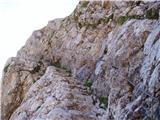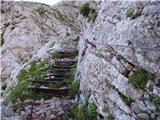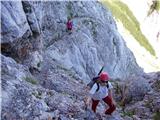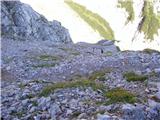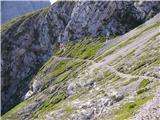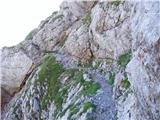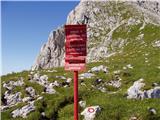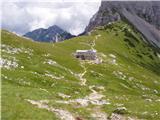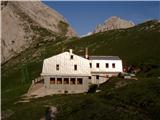 Copyright © 2006-2015
Privacy Policy
, Hribi.net, Mountaineering, Hiking, Trekking, Climbing